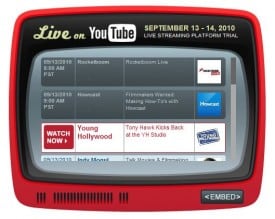 In yet one more salva in the war for the living room, YouTube today is testing live video streaming. The two day pilot runs through Tuesday and includes content from four partners: Rocketboom (news and entertainment),  Howcast (instructional), Young Hollywood (pop culture), and the Next New Networks (political).
According to Comscore, YouTube still dominates when it comes to online video. It leads with 143.2 million unique viewers, followed by Yahoo Sites with 55.1 million viewers, and then by Facebook with 46.6 million viewers.
No word yet on what YouTube plans to do with live streaming, or when it will become widely available. Existing services such as USTREAM and Livestream have expanded quickly in recent years to accommodate the always-on generation. With the flick of a switch these Internet-based services enable would-be journalists, talk-show hosts, aspiring musicians, and artists to broadcast free in standard definition. Like traditional television, the number of viewers that may tune in varies. But ad spending on video content is also exploding.
From the official YouTube blog: "This new platform integrates live streaming directly into YouTube channels; all broadcasters need is a webcam or external USB/FireWire camera. Included in the test is a "Live Comments" module which lets you engage with the broadcaster and the broader YouTube community. For the purpose of the trial, this offering will only be available today and tomorrow. Based on the results of this initial test, we'll evaluate rolling out the platform more broadly to our partners worldwide."
Cable and satellite companies should continue to sweat. The future of television is already here, and its increasingly online via the Internet. However, while it's clear that they heyday of cable is over, it's not immediately evident which model, if any, will dominate the next generation of viewing. There are at least three strategies available or in the works:
Video Game Consoles as Media Hubs
The Sony PS3, Nintendo Wii and Microsoft XBOX360 can all stream video. Services such as Netflix can also be accessed via the consoles. For families that with kids that enjoy gaming (and likely the parents too!), then this is a decent option for watching movies. However, television content is limited, and live streaming is not yet a reality.
Dedicated Video Streaming Devices
Roku has had success here. Their little box provides access to an increasing number of channels including television (DreamTV, Drive-In Classics), movies (Netflix, Amazon), news (Newscaster), sports (MLB.tv) and social services (Facebook, Flickr).
Internet-based Services
Google TV is coming. Based on YouTube this service will be one to watch. While viral videos may be fun for a minute, most want legitimate, quality television shows and movies. Look for Google to sign networking deals and move from cats playing piano to full-blown prime-time television.
Live on YouTube program guide