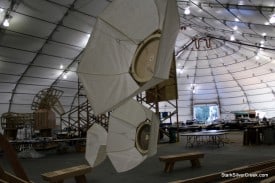 So that's how you build a poetic electro-mechanical audio system!
Last night we stopped by South Hall, downtown San Jose to see how artists were faring with their projects and art installations. A lot has happened in only 5 days. As part of the 01SJ Biennial, "Out of the Garage Into the World" features scores of works, staged in the 80,000 square foot hall. Think of it as a creative firewalk. The public can walk at their own leisure, talk with the artists, and witness outside-of-the-box thinking come to life.
Or maybe it's a large guitar played by the wind?
We interviewed several artists, and will be rolling out the videos over the next few days, leading up to the opening ceremonies which take place on Thursday, September 16. In this segment we spend a few minutes with Canadian artist Ken Gregory, whose "wind coil sound flow" will be installed at the Rotunda at City Hall.
It's an expansive, beautiful wooden piece that, as Loni suggests, looks like a fine–albeit super-sized–musical instrument. But, in fact, as we learn from Ken, the work has its roots in kites.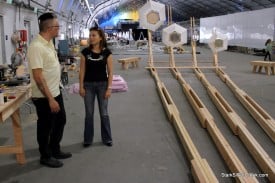 From the 01SJ web site: "wind coil sound flow (2009) is an electro-mechanical audio system that poetically reproduces the processes involved in operating an Aeolian Kite Instrument in the field. The Aeolian Kite Instrument is a wind instrument based on an Aeolian harp. The kite's towline is acoustically coupled to a resonator."
At the north end of the hall, a series of artist talks were underway. Minutes earlier we ran into Victoria Scott and Scott Kildall (Gift Horse – video profile) who had made significant progress on their Second Life-inspired Trojan Gift Horse. It will later be "gifted" to the San Jose Museum of Art, but not before surprise viruses fall out of its belly.
Coffee is the beverage of choice–at least for most of the day. Many artists have travelled great distances to the 01SJ Biennial here in San Jose and are working against the clock to get their pieces ready in time for next week's launch. Sleep is often, by necessity, optional. No matter, though; adrenaline can go a long way in overcoming even the most fatigued. After all, when you build your own world, working nine-to-five is not in the cards.