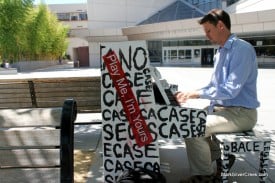 (The black and white piano seen in these photos and the video was converted by Daniel Stadulis)
Those colorful street pianos now lining several downtown streets, parks, and thorough-ways did not arrive by accident. Aptly named Play Me, I'm Yours, the pianos are part of a global, multi-city tour which includes a stop in San Jose for the 2010 01SJ Biennial produced by Zero One.
Other cities have included London, Belfast, Sao Paulo, Sydney, New York and Barcelona among others.
Sure enough, as we interviewed artist Luke Jerram, onlookers gathered around to watch, to listen, and to even possibly learn. It's the kind of street scene that the 35-year-old Brit relishes.
"This piano has been turned from a normal piano into a work of art," he says while sitting at a group-painted black and white piano just outside MLK library in San Jose. "Then, when people play the pianos, that's another form of art." Well, except in the case perhaps of Loni who would prefer that her parents not watch this video.
Reaching an audience of over 1,000,000 people worldwide, Jerram has installed over 300 pianos in 16 different cities so far.
Later, passerby Isabella takes up the challenge to play an outdoor piece or two. She tells Loni that she hasn't played in three years, and her former Russian piano teacher had a rather strict approach, "She used to hit me on the hand with a ruler."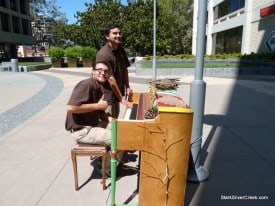 And why pianos, and not, say… drums?
"With pianos, if you know a tune you can, more or less, play it. With bongos you're kind of limited–aren't you?–to bashing it," says Jerram. "Also, a piano is a piece of furniture that people can gather around."
Even the pros have jumped into the street performing action. In New York, Cyndi Lauper performed an impromptu mini-concert at one of Jerram's pianos at the Times Square 44th Street location.
There are 16 pianos now in San Jose. Part of the fun is discovering each one's personality, paint job, and, of course, location.