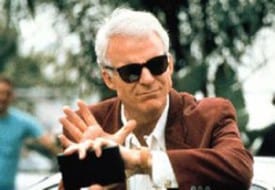 That is the potentially viral question of the day, at least if ICA Executive Director Cathy Kimball gets her wish in an effort "to blow the roof off the joint." In an open letter published on the ICA Blog "Talking Art," she invited one of the Three Amigos, the Steve Martin himself, to the upcoming Fall fundraiser (Oct 23) at the Institute of Contemporary Art in San Jose.
Like the San Jose Rep, the gallery is celebrating its 30th anniversary, and figures why not have the wild-and-crazy actor/comedian participate in the celebration.
What exactly would he expected to do…? Well, aside from assuring he could do, "whatever you want!" the playful letter suggests that he could be a guest speaker, become the ICA's first celebrity fan, and, most importantly, add $20 to the donation box.
It's a clever idea. Heck, why work through PR channels when you can harness the power of social media?
In fact, it's already garnered an influential mention in man-about-town Sal Pizarro's always fun Merc column. Sal writes, "It would be something else if Steve Martin — the actor, comedian, musician and playwright — walked through the doors of San Jose's Institute of Contemporary Art next month."
Yes, that would be something. And given that Steve Martin is a reported collector and fan of art, it would be entirely appropriate and also a reason to raise a glass to creative marketing. Even if Kimball and team don't get their wish, it's a cheeky campaign.
One of my fondest Steve Martin movie moments–and there are so, so many–comes from L.A. Story (1991), a sleeper that gave Sarah Jessica Parker her big break as a bohemian girlfriend, eager to dance in the rain. My favorite scene, though, involves a piece of art. We don't see it at first. Martin passionately speaks about it while staring at it intently with friends looking on. We see his facial expressions, and hear him describe his deep emotions–this painting evokes deep human meaning. When we finally see the painting, a nondescript blur of red paint, we learn yet another tidbit that is the superficial of Los Angeles. To this day, I laugh out-loud foolishly; one of many brilliant scenes in a brilliant film.
In the words of the ICA, I too "look forward to a-snowball's-chance-in-hell" of seeing Steve Martin next month in San Jose.