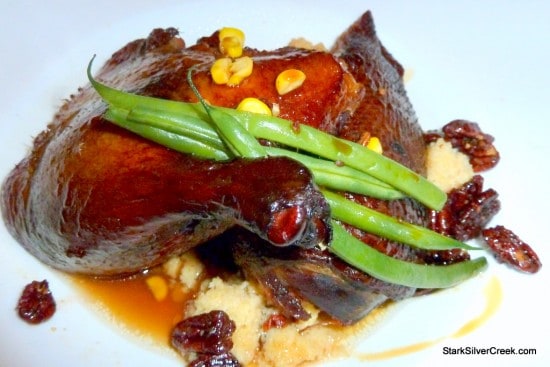 Chef Emeril Lagasse is not shy about kicking up his culinary creations with plenty of flavor and butter. He is well-known for his high energy television shows where his signature exclamations of "BAM!" and his liberal use of butter and fats can incite an audience into a salivating frenzy.
If you want to taste any of his creations though, you will need to visit one of his 12 restaurants located in New Orleans, Las Vegas, Orlando, Miami, Gulfport and Bethlehem. Recently, I visited his second restaurant, NOLA Restaurant in New Orleans which was opened in 1992, just two years after Emeril's first endeavor as a chef-proprietor with Emeril's, also located in New Orleans.
At NOLA's, Emeril's culinary style renders fresh interpretations of classic Creole cuisine.
The dinner menu had some mouth-watering choices that I could not resist. The highlight of the meal was the Hickory-Roasted Duck with Whiskey-Caramel Glaze, Buttermilk Cornbread Pudding, Haricot Verts-Fire Roasted Corn Salad, Natural Jus and Candied Pecans ($29). The duck was tender and drizzled with a wonderful caramel sauce that had nice complexity because of the whiskey component. If it was just caramel, it would have been too sweet. Oozing below the duck was a cornbread pudding that made me roll my eyes, sigh and try to sink deeper into the wooden restaurant chair.
After walking around downtown New Orleans on a hot, humid day, it was sacredly pleasurable to be sitting in the air-conditioned, dimly lit restaurant devouring this duck creation.
I also sampled both the Buttermilk Fried Breast of Chicken with Bourbon Mashed Sweet Potatoes and the Grilled Pork Chop with Brown Sugar Glazed Sweet Potatoes and these were also decadently delicious. The duck was still my favorite followed by the Fried Breast of Chicken. The crust on the chicken was so mind-blowing good. I felt like it appealed to the very carnal elements of my appetite.
To truly enjoy the meal though, you need to give up any desires to eat healthy and low fat. Such an inclination will keep you from savoring the true NOLA experience. The salad was good, but it didn't pair well with the rest of the meal. It is like trying to enjoy a solid Sauvignon Blanc on an evening where the rest of the wines you are tasting are bold Cabs, Chianti and Francs. The former would pale in comparison no matter how expertly conceived.
The appetizer of Duck Confit and Fried Egg Pizza with Parmesan Cheese was decent, not an out-of-body experience like the flatbread I had at Saffron Restaurant in Walla Walla, WA. I compare the two because both had the distinctive ingredient of a runny fried egg. There was just too much crust in the NOLA version, which would not have been a problem if it was the perfect crust. Instead it was too bread-y and made me feel like it was meant to fill you up instead of wet your appetite for the main course.
The desserts all looked tempting. However, we decided to pass on it. Let's just say we had dessert already at Café du Monde. Beignets, anyone?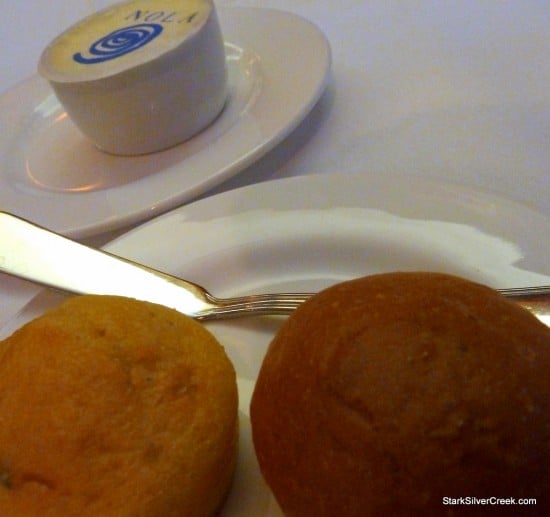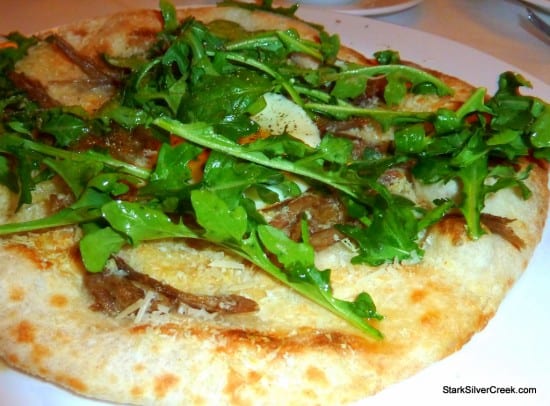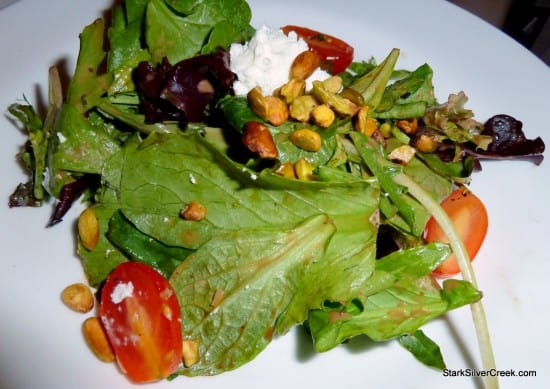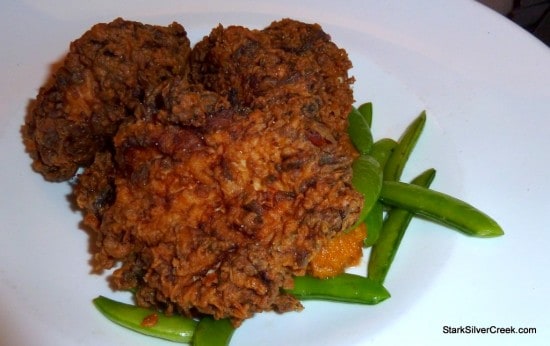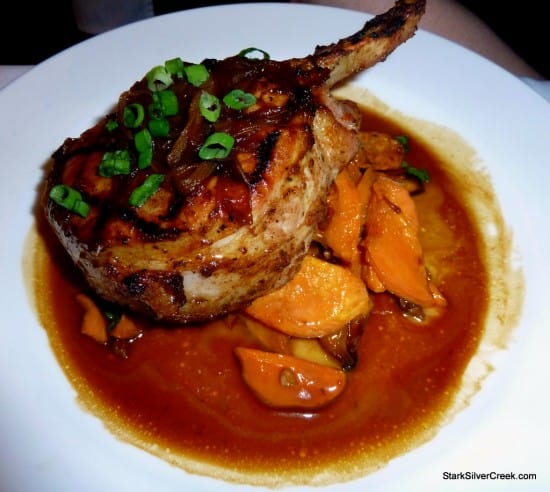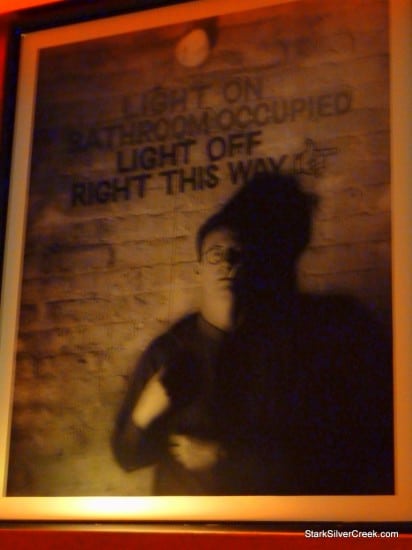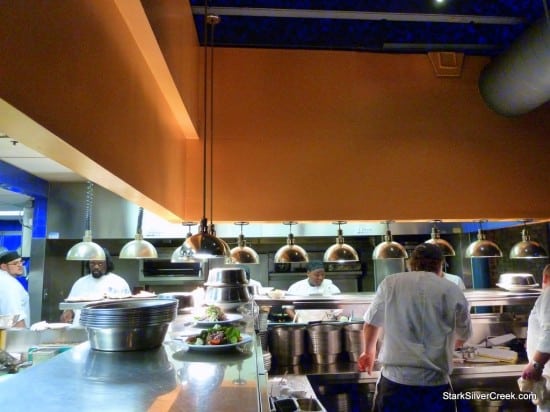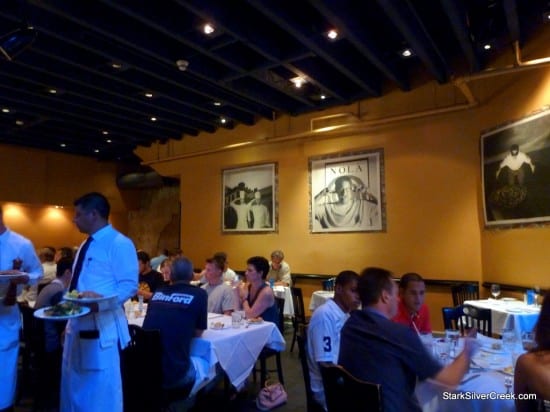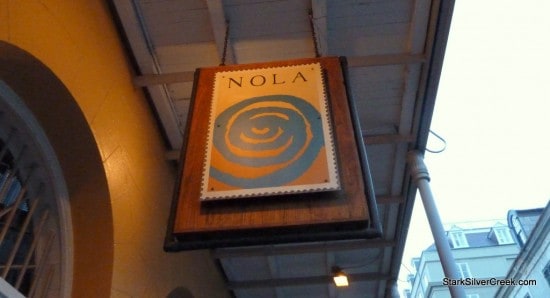 NOLA Restaurant
The French Quarter, 534 St Louis St, New Orleans, LA 70130
Phone: (504) 522-6652
On the web