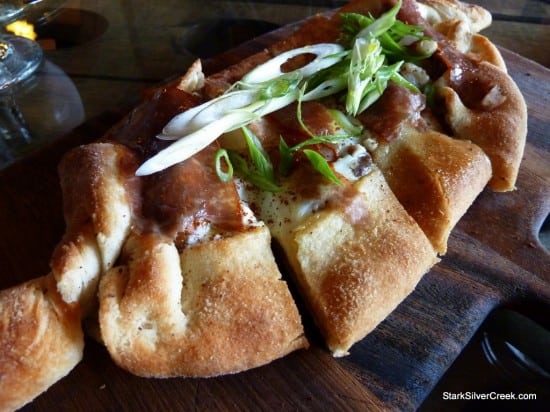 It's the first evening of our trip in Walla Walla, WA. It was the quest for great wine that brought us to this charming town with its pastoral terrain speckled with wineries and farms. However, after visits to several wineries, each an adventure, it was superb food that I am now craving.
Who knew it would lead me to a new appreciation for flatbread?
I asked Walla Walla locals, both in front and behind tasting room counters, which resulted in votes for Brasserie Four, Whitehouse-Crawford and Saffron Mediterranean Kitchen.
By six o'clock my informal survey resulted in a clear winner: Saffron Mediterranean Kitchen. I must admit what pushed me over the edge was a strong jab from Tiffany, the owner of a local pastry and gelato shop. I was ecstatically scooping into some vanilla bean gelato created in her store when she made the final recommendation that I should go to Saffron for dinner.

Having both superlatively creamy gelato and a friendly demeanor makes Tiffany one persuasive woman. It also helped that she offered to call ahead while we enjoyed our gelato in her shop.
We strolled to Saffron marveling how walkable downtown Walla Walla is. On the way, I made an appointment for a hair cut at Misbehaven Spa & Salon with Kari. Yes, I was feeling like quite the quasi-local on my first evening in town.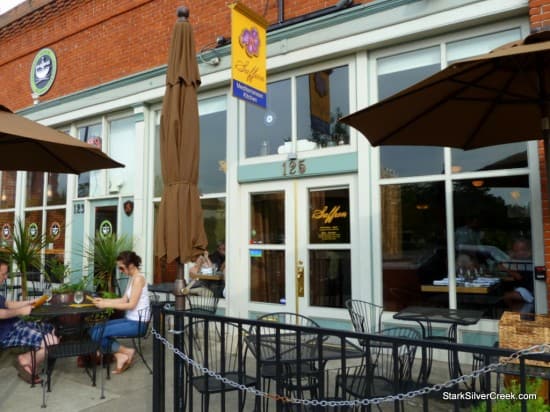 The exterior of Saffron is a mixture of old red brick and glass with pale blue and white detailing. While the outside facade suggestions character, the interior positively bursts with warmth and vibrancy. Exposed bricks, voluminous ceilings and tables made from old riddling racks intertwines a hint of rustic old world charm with the influence of a burgeoning wine industry.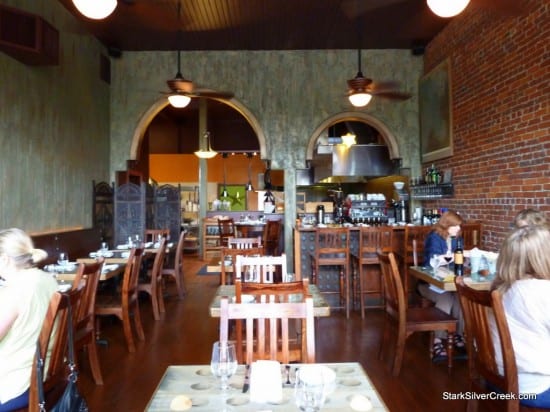 Immediately, I wanted a table indoors to fully enjoy the decor and the peeks into the kitchen where proprietor and chef Chris Ainsworth creates his Mediterranean-inspired dishes.
Choosing what to have for dinner was challenging. The descriptions of each dish on the menu was simple—no sensationalistic adjectives in sight. Instead, just a list of the ingredients in each creation. It teased my appetite.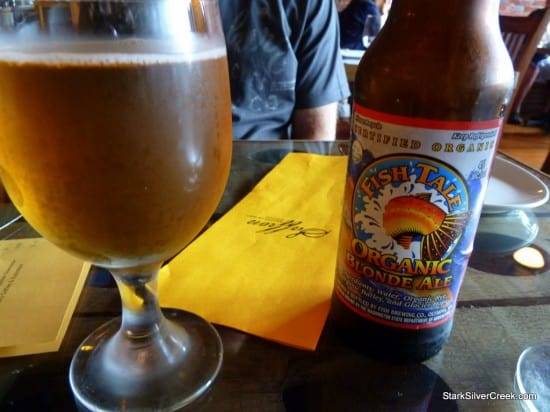 We decide to share the House Made Pastirma & Onion Pide Pie ($14) listed under "Flatbreads". Rumor was Saffron has mouthwatering flatbreads. The ingredients had me salivating: Turkish open faced pie, cured beef, mushrooms, roasted Walla Walla spring onions, house made yogurt cheese, sumac and egg. It was the idea of the runny egg that really did me in.
Yet was this really flatbread or a pie? When does one become the other?
A flatbread is a simple bread made with flour, water, and salt and then thoroughly rolled into flattened dough. Many flatbreads are unleavened—made without yeast or sourdough culture—although some flatbread is made with yeast, such as flatbread made with whole wheat flour. There are many other optional ingredients that flatbreads may contain, such as curry powder, diced jalapeños, chili powder or black pepper. Olive oil or sesame oil may be added as well. Flatbreads can range from one millimeter to a few centimeters thick. Flatbread was already known in Ancient Egypt and Sumer. (source: Wikipedia)
For the main course, I ordered Maltagliati ($23), one of their house-made pasta dishes. It consisted of lamb ragú, fresh peas, pea shoots, mint morel mushrooms and Causse Noir cheese. Enough said. Clint selected the Anderson Ranch Leg of Lamb ($26) consisting of roasted carrots, green garlic, black olive harissa, Italian parsley and feta. A Barbera wine from the Walla Walla region (unfortunately we didn't scribble down the winery name) paired wonderfully with the lamb.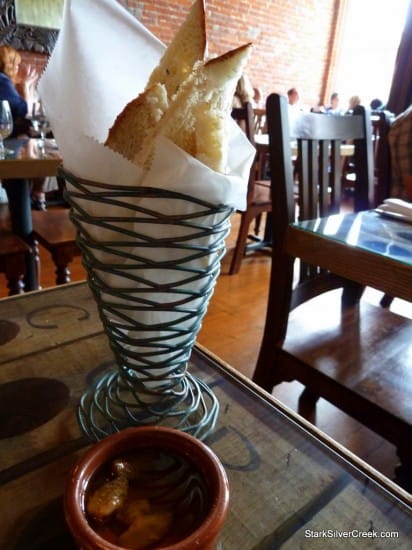 To start, a cone-shaped basket of bread was brought to our table with a little side dish of Moroccan olive oil. I had to muster the will to refrain from inhaling the entire basket and ruining my appetite for the actual dinner. Island Ainsworth, co-owner of the restaurant, was the one who brought the bread over and told us she first had this bread in Turkey.
The flatbread (or pie) surpassed my expectations. The bread had a golden crispy crust enveloping, the sweet Walla Walla onions were nicely caramelized and the soft egg yolk melded all the flavors together. I couldn't stop raving about the flatbread. It was the highlight of the evening.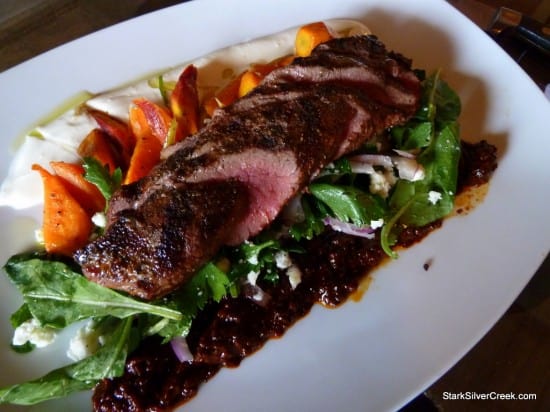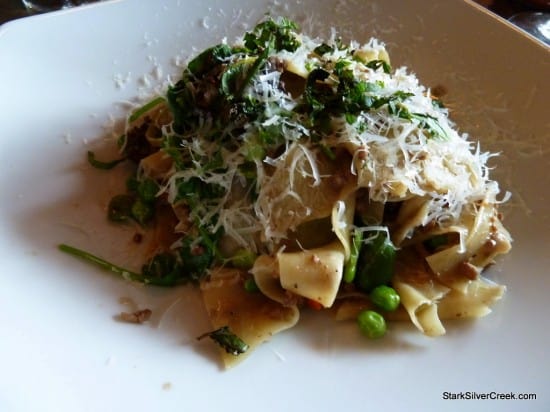 Clint's Leg of Lamb was perfectly prepared. The only improvement on this dish may have been the carrots. They were a little undercooked.
The Maltagliati house-made pasta was delectable. There is really no substitute for making your own pasta, it's just a labor intensive process. The ingredients in this dish was well balanced. The sauce did not overpower the delicate flavors of the peas and morel mushrooms.
The dessert menu was enticing. For this evening, though, we passed since we had just devoured gelato prior to our stop into Saffron.
The locals were right. Saffron Mediterranean Kitchen is a must stop foodie destination when you visit Walla Walla.
My verdict on the flatbread vs. pie question?
Call it flatbread. Call it pie. I'll simply comment that when prepared well, who cares what it is called.
I am already craving their Pastirma & Onion Pide Pie flatbread. The runny yolk, the tender caramelized sweet Walla Walla onions and my feelings of euphoria biting into it. Yes, I would have a Saffron flatbread addiction if I lived in Walla Walla.
Saffron Mediterranean Kitchen
125 West Alder, Walla Walla, WA 99362
Tel: (509) 525-2112