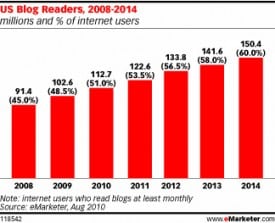 According to a report this morning, blogs continue to be important, and over half of Internet users — 113 million people —  in the US read them on a monthly basis. Every morning I receive "The eMarketer Daily" and usually don't give it much attention; when a researcher commits to publishing data on a daily basis, you can bet that sometimes the information is less than useful. Still, occasionally they do produce quick, compelling reads. And this one caught my eye.
Interestingly, not only are blogs colliding with mainstream (traditional) media, but as the headline points out, they're also increasingly challenged by the shorter communication formats afforded primarily by Facebook and Twitter.
Why bother typing more than 140 characters to tell people the latest news?
However, there is obviously a big difference.
To read an editorial, for example, on the war in Afghanistan, or a proposal for environmental restitution in, say, Greenland, by necessity requires lengthy exposition to establish facts, points of view and a conclusion. Patience and time, two increasingly scarce qualities in today's blink economy, certainly help.
I've always considered social media and blogs complimentary. The two are natural allies. Blog posts provide in-depth commentary, and substance (quality may be a different matter all together) while Twitter and Facebook provide for real-time engagement with readers and interested "tribes." The latter is most certainly used as a promotional tool to draw traffic to blogs. And I agree it is obviously "less intensive" as the report suggests; that's a primary reason for their runaway success.
"Trends in blog reading are expected to maintain an upward course as blogs continue to gain influence in the mainstream media," said Paul Verna, eMarketer senior analyst. "But there is a caveat to this forecast: Over time, blogs will continue to become indistinguishable from other media channels."
Verna's last point is interesting. Look, for example, at The Huffington Post, the number one Blog in the known universe. It feels big (and it is). It is larger than the New York Times when it comes to online traffic. But, say-it-ain't-so continues to generate far less revenue at about $30M per year. However, HuffPo certainly looks mainstream. So much so, that you're likely to see stories about American Idol, J-Lo, and Lindsay Lohan. I guess either this amuses Arianna or it quite possible generates more traffic…?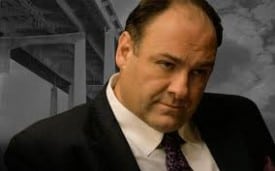 By 2014, eMarketer forecasts that over 60% of Internet users will read blogs. That's 10% more than today.
There's little doubt that blogs (as well as social media) continue to usurp the norm. Everything we thought we knew about media ten years ago is virtually irrelevant.
The one thing though that still matters in terms of mass-scale consumer movement or cultural shift?
Television.
If you want to discover where the biggest cultural icons and brands are born, turn on the TV. There you'll find Glee, Mad Men, Dancing with the Stars, Taylor Swift, Top Chef, and Steven Colbert. Sure, Justin Bieber was born on YouTube, but that's still the exception. For now, television is far from dead in terms of influence. Long term the writing's on the wall, but don't expect all of us to want to watch a cat play piano.
Somewhere, Tony Soprano must be grinning.