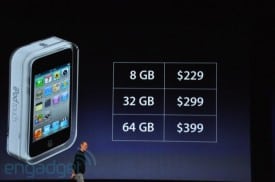 A new iPod Touch with Retina display, multi-touch iPods, iTunes 10 and iOS 4.1, and second generation Apple TV were among some of the newsworthy items as Apple today announced several new products at a special event held here in San Francisco. The line-up positions Apple for the holiday season with several products at multiple price points.
A guitar with the Apple logo served as the theme for the event and its marketing communications so music was certainly on our minds. The PA streamed Jack Johnson's Better Together to a full house at the Yerba Buena Center for the Arts Theater.
Apple CEO Steve Jobs, with the most limited wardrobe in the known universe, walked out in trademark jeans and black turtleneck, and quickly acknowledged the presence of his "partner in crime" Steve Wozniak who was sitting in the audience (and recently celebrated his 60th birthday in San Jose).
Apple still wants your living room. A second generation version of Apple TV was announced. First released in 2006, Jobs concedes it was "not a big hit." So they re-tooled. The new model adopts a rental-only model ($4.99 movies, 99 cents TV shows). ABC and Fox shows will be available.
New Apple TV is available in 4 weeks with an aggressive price point of only $99.
The march to touch interfaces continues with new iPods that use Apple's class-leading multi-touch interface. The new iPod Nano (6 colors) now uses iOS and is operated much like an iPhone or iPod Touch. It will run for 24hrs on battery and costs only $149 (8GB), $179 (16GB).
A new iPod Touch was announced that remains essentially an iPhone without the phone, but including all the gee-whiz innovations such as the Retina display Apple A4 chip, 3-axis Gyro, iOS 4.1 with Game Center, FaceTime with front camera, HD video recording. Battery lasts 40hrs. $229 (8GB), $299 (32GB), $399 (64GB).
iTunes 10 was released (available today) and includes a new icon. "It was time to ditch the CD in the logo," joked Jobs.
Ping, a social network for music, is now built into iTunes, and allows people to connect with friends, discover new music. A lengthy demo underwhelmed, and appears as a lightweight attempt by Apple to muscle into Facebook's market.
iOS 4.1 was announced and includes bug fixes plus new photo rendering technology that reduces wash-0ut exposure. Also, TV rentals are coming to iOS which should sent alarm bells to companies such as Roku and Hulu.
As is always the case, Jobs dazzled early with McDonald's super-sized-like numbers: 120 million iOS devices (iPad, iPhone, iPod Touch) shipped, 230,000 new devices activated per day, 6.5 Billion Apps served (200 downloads every second), and 250,000 Apps on the App store including 25,000 alone with the iPad. 275 million iPods sold. Phew!
Highlights from the Fall Apple Event
Here's the recap from the Apple Fall Event held in San Francisco on 09.01.2010.
Steve Jobs talks about the new 40ft. glass Apple store in Shanghai, China

300 Apple Retail Stores

2nd store in China (Shanghai) – 40ft. high glass cylinder, "a landmark in glass engineering"
London, 2nd large store. Entire restored building
10 countries – soon will enter Spain for eleventh
Some days stores get over one million visitors in a day
iOS (the OS that powers mobile devices, it's made the iPod Touch, the iPhone and iPad possible

120 million iOS devices shipped
230,000 new iOS devices activated per day
6.5 Billion Apps on the App Store (200 Apps downloaded every second)
250,000 Apps on the store (25,000 are iPad Apps)
ANNOUNCED: iOS 4.1 (and previewed multi-tasking with 4.2 coming in November)

Bugs fixed
High Dynamic Range (HRD) photos – prevents washed out over-exposed images
HD video upload over WiFi
TV show rentals
Game Center (an App) – all about multi-player games, Mike Capps (Epic)
The new iPod Shuffle, $49

ANNOUNCED: New iPods (all-new designs for every model)

275 million iPods sold
"The biggest change in the iPod lineup ever."
New iPod Shuffle, playlists, 15hr battery, $49 (2GB)
New iPod Nano, multi-touch enabled (no clickwheel), 24hr battery, $149 (8GB) /$179 (16GB)
iPod Touch has over 50% worldwide mobile gaming market
New iPod Touch, Retina display, Apple A4 chip, 3-axis Gyro, iOS 4.1 with Game Center, FaceTime with front camera, HD video recording, 40hrs battery, $229 *8GB), $299 (32GB), $399 (64GB)
ANNOUNCED: Apple iTunes 10 ("The #1 online media store in the world")

11.7 billion songs
450 million TV episodes
100 million movies
35 million books
New logo
Ping – social networking for music
ANNOUNCED: Apple TV 2nd generation

Introduced in September 2006, but "not a big hit"
Users want "Hollywood movies & TV shows" – "they don't want amateur hour"
Don't want a computer on their TV
1/4th the size, fits in the palm of your hand
HDMI, ethernet, 802.11N wi-fi
Aluminum remote
All rentals, no purchases (eliminates storage management issue)
$4.99 movies
99 cents TV shows
ABC and FOX partners
Push feature enables you to move movie from the iPad/iPhone to Apple TV
New lower price: $99
Musical performer: Chris Martin of Coldplay
Photos: Courtesy Engadget.