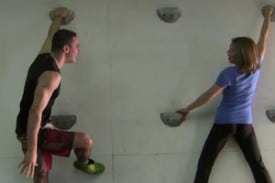 While Mantis and Spider by mini-film maker Clinton Stark here on SSC have received gorilla-sized ratings in terms of views (at least by our standards), there are plenty of other video tidbits that are doing well. In case you might have missed any of them, I've rolled up the top videos here for your viewing pleasure all neatly wrapped up in one place.
To date, SSC has produced 250 videos (with over 81,000 total views) including just about every topic under the sun: how not to use an apple peeler; adventures in vegetable gardening; foodie coverage including events such as SF Chefs and Pebble Beach Food & Wine, on the streets to cover local events such as the San Jose Jazz Festival, the SUBZERO street mash-up and behind-the-scenes at Cirque du Soleil.
Then, there are the interviews, an increasingly popular part of our coverage. We've interviewed some big names in the Bay Area, including James Carpenter, Julia Brothers, Robert Kelley (TheatreWorks), Rick Lombardo (San Jose Rep), Rob Melrose (Cutting Ball), among many others–an equal opportunist, Loni has botched all of their names, one and all! We apologize once again for those, plus the many more invariably to follow.
On the Chef and wine personalities front, the roster is also growing and includes familiar faces such as Andrea Immer Robinson (Author / TV Personality / Master Sommelier), Jan Shrem (Clos Pegase), Michael Chiarello (Food Network / Bottega Napa), Charles Phan (Slanted Door), Josiah Slone (Sent Sovi), Dominique Crenn (Luce), Matthew Accarrino (SPQR) and Adam and Sybil Strum (Wine Enthusiast magazine). Film directors including Jeffrey Goodman (The Last Lullaby), Cullen Hoback (FRiCTION), and Seth Owen (Peepers) and Paul Crowder (The Real Revolutionaries) have all made entertaining appearances on SSC.
Now onto the top videos on SSC for this week, the last in August. Happy Back to School everyone!
#3. Inside Cirque du Soleil OVO: Episode #2 Rock Wall Training
When OVO, the new hit show by Cirque, hit the Bay Area, Loni went behind-the-scenes to film a series of backstage interviews. In this segment she learns how to become a wall-climbing "cricket". Do not try this at home.
#2. Star Chefs and Vintners Gala San Francisco
"This is like Iron Chef times a thousand!" says Loni while backstage with 70 star chefs preparing one of the biggest meals, for one of the biggest Bay Area events. The best part of this event was the $1.2M it raised to support Meals on Wheels of San Francisco. It also is a popular video for enthusiasts interested in how the Canon T2i can work on location. Later (8:47) in the video, Clint switches to the 50mm F/1.8 lens for some fun low-light shots.
#1. DIY tips: Caulking baseboards
And because we all must never forget our pasts, I present one of the earliest SSC hits, way back in the day… when Loni was Queen of Home Improvement. It had to start somewhere. Shot in stunning HD, this video requires a fair amount of censorship when it comes to moderating comments left by "fans" …