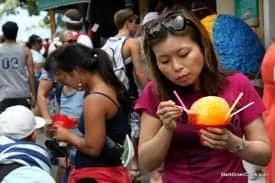 No wonder they call it Big Island. Everything is BIG here. Big volcanoes. Big coffee beans. Big Macademia nuts. Big rain forests. Big lava tubes. And, of course, Big servings of that Hawaiian tradition: Shave Ice. We stop in to Scandinavian Ice, a Kona landmark to see what all the fuss is about in this episode of SSC Travel.
Those that get weak at too much sugar and too much syrup may want to turn away… this is not exactly something you'd find at the top of Richard Simmons' workout diet. Then again, when you're in Hawaii why not throw caution to the wind and celebrate?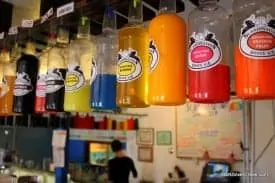 It seemed that whenever we weren't searching for the best Sushi the island could offer, we were either hunting down loads of Papaya and Mango to keep Loni satiated, or hanging at the awesome Lava Rock Cafe, people watching and enjoying the Kailua Bay breeze.
Often mistaken for "snow cones" or "slushies" I learned–with plenty of first hand experience!–that a true shave ice has the consistency of new-fallen snow, not the granular, crunchy ice you may see piled outside your local hockey rink. Choices boggle the mind and can send your sweet tooth into overdrive: 45 syrup flavors, 17 flavors of Big Island Ice Cream. Everything is handmade locally.
The key to eating one is preventing the mega mound from imploding. They told us to eat from the sides ("scrape the sides"), so as to protect the core. Maybe having so many volcanoes around, locals have learned a trick or two about dealing with large, potent objects.
With the sugar high intact, the best way to work it off: A Luau! And don't just watch one. Do what Loni does here, join the little kids and get up there on stage to dance for all the parents. But that is another segment, for another time… Aloha!