The evening ended with us walking out of Macy's holding a pot of rosemary and a pot of thyme. Although we were two herbs short of a complete folk album, it was still a hit. It also once again marked many firsts, including Loni yelling, "Stand back from my herbs, woman!" Could security keep the brouhaha from escalating?
Last night team SSC was in San Francisco at Union Square to experience the "Taste Tomato" in action. A cross betwen the Maglia Rosa and Zucchero varieties, the newly farmed little guy (from Baia Nicchia Farm & Nursery in Sunol) was making a starring appearance. Executive Chef Chris Borges was on hand to prepare a three-course meal at Macy's Cellar to showcase its potential. Dishes included a Bloody Mary Summer Salad, Marin Sun Farms Top Sirloin (with Sauce Bordelaise and Taste Tomato Chutney), Tast Tomato Toybox Squash, Squash Blossom and Chevre Tart, 'BLT', and more.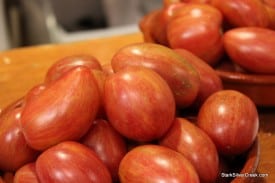 I should note that this is the first time I've had a meal sitting in the kitchen and home department at Macy's – or in any department store for that matter.
The Cellar kitchen set-up is impressive, with all the necessary gear to deliver a high quality dining experience. It was quite a sight, with Martha Stewart grinning above us on one side, and on the other–BAM–Emeril.
Loni will be covering the event in more detail with no doubt plenty of foodie commentary and insight. Once again, Canon T2i was in tow and we captured about 17GB of action video and interviews. People we caught up with on camera included MeMe Pederson (CEO Taste Catering), a cooking demo with Executive Chef Chris Borges, David Stockdale (Executive Director CUESA) and Catherine Bartels (GM, Macy's).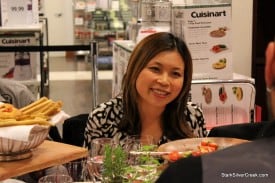 The event benefited the Center for Urban Education about Sustainable Agriculture, or, perhaps easier to say, CUESA.
The verdict?
Well, I'll have to leave that for Loni to decide. My favorite dish was probably the simplest, the Bloody Mary Summer Salad. Over the years I've grown tremendously fond of simple tomato dishes, notably tomatoes with balsamic and feta cheese. Paired with a crisp Chardonnay, you can do no wrong with it. Need I even say that the meat dish never fails to disappoint. Such was the case again with Chris' Marin Farms Top Sirloin with Taste Tomato Chutney.
For now, here's some photos (update: video too!) from the evening. More coverage coming soon. Meantime, all things foodie continues to charge ahead this week with SF Chefs, also at Union Square San Francisco. Oh, plus other events including the AT&T Jazz Festival downtown San Jose. And, yes, even the circus is in town.
Who doesn't love fondling tomatoes?
Send your news, tips and story ideas to press@starkinsider.com. Don't forget to follow us @StarkInsider and like us on Facebook for the latest in SF Bay Area Theater, Arts, Food, Wine, Tech… and maybe even a blooper or two.
SSC – "Twice as fun / Half as smart."