It's hard not to feel like a Cool Cat wandering the streets of downtown at the San Jose Jazz Festival. The breeze is easy, the trumpets sinuous and the vibe oh-so-hip. Later at home, I realized my fair skin had that slightly baked glow; it was one of those days that felt just perfect, and as I kicked back to recall the event it struck me that organizers are on to a good thing–a very, very good thing.
Fitting for an event in its 21st year, SJ Jazz Fest feels as fresh and vibrant as ever. On Saturday night George Clinton took to the stage and wowed the crowd who was "lit" up. From the San Jose Mercury News, "Clinton, bedecked in purple tie-dye robes and still the Dionysian evangelizer, led the interplanetary funk outfit on its mission to rescue the world from humdrum hang-ups and oppression."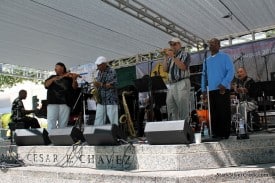 On Sunday, things were just as energetic, albeit slightly less funkadelic.
On the main stage, looking across Cesar Chavez Park, jazz legend John Handy played to a packed crowd who were enjoying the sun (and the shade) as well as just about every food known to humanity along the perimeter. We spoke to people who had arrived from all over California including Fresno, Los Angeles, and, even Gilroy! The main reason, of course: The Music.
San Jose Jazz Fest, despite the economy and some past bumps, appears to be still drawing the crowds. Every single person we interviewed on SSC was flush with superlatives when describing not only the festival, but also their experience in downtown San Jose. Loni and I both felt the positive energy.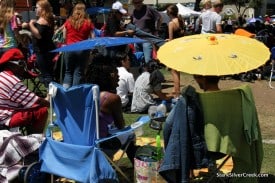 Just down the street, at one of the nine other stages, a whole different tempo. The Latin Rhythm Boys had the crowd dancing up a salsa storm on the streets. The horns were ablazin'. Also, it marked the first time I had ever seen Loni get dance lessons from a giant salsa-dancing Slurpee. Anything goes I guess when our week included lunch with a Ringmaster in a train in Oakland, a foodie wonderland at SF Chefs, and, even, a chance encounter with the energetic group from Parkour San Jose who were literally bouncing off walls and buildings (quite the spectator sport!).
Send your news, tips and story ideas to press@starkinsider.com. Don't forget to follow us @StarkInsider and like us on Facebook for the latest in SF Bay Area Theater, Arts, Food, Wine, Tech… and maybe even a blooper or two.