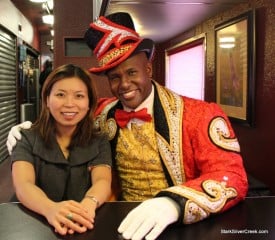 Is life in the circus all the FUNundrum it's cracked up to be? We headed up to a railway station near Oakland Arena to find out. The circus is in town (and is now playing at the HP Pavilion in San Jose) and we got a unique opportunity to board the famous Ringling Bros. cricus train that crisscrosses the country bringing the latest show into town. It's a tradition that dates back to 1872 when P.T. Barnum's Grand Traveling Museum, Menagerie, Caravan and Circus, first began traveling that nation's railways. Today, they are the largest private user of railroads in the country.
As we boarded the train for the second time (we initially entered the wrong car, not a hard thing to do when confronted with 60 similar looking cars!), I wondered what exactly was in store for us. It was the first time media were invited into the "pie car" where performers can enjoy 7/24 meal service. All I knew is I would shoot as much footage as possible and hope for the best. When you have Ringmaster Johnathan Lee Iverson, who Barbara Walters named him one of the ten most fascinating people of 1999, plus an eager-to-please clown, there's bound to be a few good scenes… not to mention a blooper or two. Plus, the idea of a Tomahawk steak for lunch didn't sound half-bad.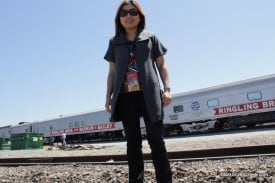 At times what you're about to watch may feel part David Lynch.
Or maybe it's the wacky, circus-themed reality pilot that never made it to television.
I'm not sure what to make of it. We do background research, bring our notes and gear to the location and hope for the best–something either entertaining, or informative, or both.
But I did learn about life in the circus.
Over 270 performers–the majority–live on the train, and include cast, staff, train crew, pie car crew, animal crew, backstage and technical departments. Some, like Iverson, live with their entire family on board; literally, life in the circus. Traveling from city to city can be a grueling, never-ending journey–the Ringling Bros. train travels an average of 16,000 miles in one year. I felt the pride that these performers have in their work. It's the kind of job that consumes you; you become the circus, everything is about the show. "There's no performer on this planet that goes through what a circus artist goes through," Iverson tells Loni. "It takes a lifetime of preparation."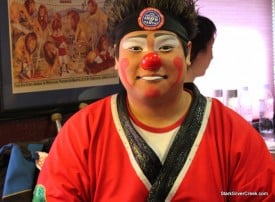 As we saw with our backstage shoots with Cirque du Soleil OVO, to accomodate families traveling with the show, a nursery, day care and traveling school are part of each touring unit.
On the topic of the treatment of the animals, elephants in particular, they are quick to point out that it's a good life for them. "If the Hindu is right, I want to come back as a circus elephant," said Iverson. "Even I don't get free healthcare!" No doubt even with a ten-year lawsuit finally dismissed it's hard not to acknowledge the animals in captivity stigma attached to this traditional circus presentation. Everyone will have their own opinion on the matter, but this is a light-hearted look at life on the train, not an expose. Loni reminds me that, despite the oil situation, most of us continue to drive gas-hungry cars; hypocrisy, perhaps, is just a matter of perspective.
Leaving the interview, heading back down 880 to San Jose, I wondered if it was still "The Greatest Show on Earth" or if a new generation of entertainment, such as Cirque, had re-invented what had possibly become outdated vaudeville. At these moments I feel Harvey Fierstein standing on my left shoulder, singing, "Tradition!"
It's hard, though, not to laugh at the clowns, to revel in the spectacle, and to admire the human conditioning required to stage something like FUNundrum, their latest show. A perfect family outing, and truly fun for all ages; a welcome respite in a world full of one too many cynical reality shows. It's now playing at HP Pavilion, downtown San Jose from August 18 – 22. Tickets start at only $15, and you can get front row for a very reasonable $65.