RIM's new BlackBerry Torch ($199, two-year contract AT&T) looks all-too-familiar: thumb-friendly chiclet keyboard, staid business (i.e. non-flashy) design, and the trademark email experience that made the Waterloo-based company an early leader in the smartphone market–a position it still holds today, topping even Apple. Most consumers will ignore it, and look for the iPhone or latest Android handset (from HTC, Samsung, Motorola among others). Enterprise buyers, at least those on the AT&T network, will likely be satisfied and continue to upgrade workers to the new model which runs the upgraded BlackBerry OS 6.
However, below the surface, times look less rosy for RIM.
While enterprise customers are sure to stick with their tried-and-true handsets, consumers are demanding more. And the physical keyboard that was once head-and-shoulders above the competition is letting way to a new input paradigm, based on touch screens. RIM's first foray into the new ever-changing new world, the Blackberry Storm, their first model to exclusively feature a touch screen keyboard, was a notorious dud.
Nielsen reported earlier this week that 57% of BlackBerry users are eyeing the Apple iPhone as their next phone; the lowest loyalty score of any major brand.
So all eyes are on the Torch. So far, the early word is middling. BusinessWeek wrote in their hands on, "the emphasis here is on access to information; because the display is smaller and the resolution less powerful than most consumer devices out there, this can't compete with the more multimedia-centric consumer smartphones."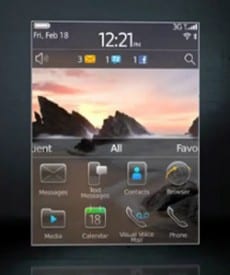 Where's the sizzle?
Each time Apple or an Android smartphone hits the market there's undeniable wow factor, with each model successively impressing.
The iPhone 4, for example, features a sharp "retina" display and offers real-time video-conferencing. Plus there is that little thing called the App store that consumers adore. Google's Android operating system also pushes the envelop with each release including game-changers (killing companies such as Garmin and Magellan in the process) such as built-in navigation (Motorola Droid).
With the BlackBerry Torch it's hard to find the eye-popping headline. More of the same seems to be the mantra at RIM HQ. Incrementalism, though, is surely no way to maintain leadership in tech. Just ask Microsoft about that (no tablet offering, dying mobile business, and a cloud strategy at least two years behind its nimbler competitor, Google).
It's too soon to sound the death knoll, but RIM's steady market share erosion cannot be ignored.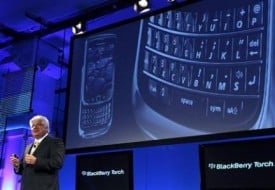 The company needs some sizzle in its consumer products. I don't understand why they have not released completely new consumer-oriented brands with flashier designs. Lenovo is a good role model. They were the laptop-making equivalent to RIM; strong in business, but struggling in the consumer space. They unveiled new product lines such as the IdeaPad which were built for consumers that rejected the teutonic ThinkPad design with price points that were out of reach. As a result they could expand with new offerings without compromising their core enterprise base that valued the traditional robust, boxy, black design. While Lenovo still has its challenges (largely due to a challenging overall PC market for shipments), the strategy, thanks to differentiated, separate product lines, has largely succeeded in helping Lenovo retain their position as the fourth largest PC maker.
Many will also be scratching their heads, wondering, "Why AT&T?" That the new phone is only available on the much maligned network means many will avoid it just by the association alone. And lest you think that's not a big deal, check in with Apple and witness the Android migration that occurred earlier this year (note that word is that the AT&T network is finally improving, and Apple financials demonstrate that things are just fine thank you very much).
The BlackBerry Torch is a decent-enough phone based on specs and early hands-on reports. But if this is the best RIM can do, I'm predicting a change in the #1 smartphone position within the next 8-12 months.