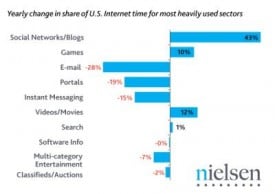 Social networking and blogs are on the rise. According to a Nielsen research report released today, consumers spend 23% of their time (about 6 hours per month) on increasingly popular sites such as Facebook, Twitter and YouTube.
What may surprise some is that twice as many Americans over 50 visited social networks than kids under 18.
While email came in third in terms of use at 8%, it continues to decline at the expense of social networking sites, notably Facebook. Many users can now accomplish many of their communication goals thanks to Facebook features including messaging, status updates, photo sharing, etc.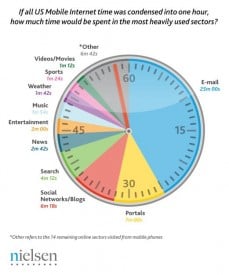 "Despite the almost unlimited nature of what you can do on the Web, 40 percent of U.S. online time is spent on just three activities – social networking, playing games and e-mailing, leaving a whole lot of other sectors fighting for a declining share of the online pie," analyst Dave Martin of Nielsen said statement in a statement.
Other highlights from the report:
The shift to online video: On average consumers streamed videos three hours and fifteen minutes in June.
E-mail is tops on mobile: Up to 42% from 37%.
Online games, led by Zynga's wildly popular FarmVille, overtook personal e-mail to become the second most popular activity.
Facebook alone accounted for 85% of all social networking activity.