Long Shadows winery in Walla Walla might surprise you. First there are the gorgeous and expansive views. But then, of course, there are the wines; made by a collective of winemakers, each responsible for making their own brand. One thing to note: it's hard to find the tasting room—it might feel like you've made a wrong turn, and are headed into a production facility, which would be partially true—but it's worth the effort. Also, be sure to make an appointment, it's the only way to taste through their six wines.
In this episode of Stark Insider TV (our 28th episode in 2 years, celebrating all things wine in Napa, Sonoma, Livermore, and now Walla Walla) join Loni as she heads one again across Washington wine country into the vineyards of Long Shadows.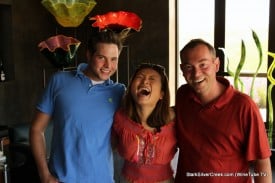 I know this: Every wine tasting visit is an adventure especially when we do pop-ins impromptu video shoots; the people you meet, the places you go… Case in point, we run into wine-maker Gilles Vicault, who we again met later when he poured during the speed tasting at the wine conference. And also, sous chef Thomas Griese of La Cirque (Bellagio) from Las Vegas is in town to enjoy the wines; "We do offer the Long Shadows wines at our restaurant. We do find it exceptional, so it's great to be out here."
We can't help but once again try to put a new "spin" on wine country… plus learn if Loni is going to become the next Robert Parker. Isn't it about time a woman assumed the mantle? I can answer that: Yes and no.
Long Shadows has a towering presence behind it. Founded by former Chateau Ste. Michelle winery CEO Allen Shoup, considered to be one of the grandfathers of Washington Wine, it has quickly earned a reputation as a producer of premium wines including Riesling, Cabernet Sauvignon, and 5 other reds including Gilles' ´06 Chester-Kidder (45% Cabernet Sauvignon, 36% Syrah, 10% Petit Verdot, 9% Cabernet Franc).
A good time was had by all. The Walla Walla adventure continues, as does wine coverage here on Stark Insider. Stay tuned for more sights and sounds from wine country across the West Coast including tasting notes, stories, interviews and… yes—a must in my books—all the bloopers, outtakes we can bear to watch.