The TV is dead. Long live the TV! You could say that the television is actually even more important than ever, especially now that we can enjoy large screens in tiny spaces thanks to LCD technology. What's changed is the way we get the content. Yes, the Internet is a disruptive mega-force. The World Cup, for example, was available on the Web thanks to lovely streaming (very high quality) on ESPN3's site.
The DVR was fun while it lasted, but now we're headlong into streaming on-demand. Why bother storing stuff on a hard drive, and dealing with all the hassle, when you can just look up your favorite episode on Hulu?
If you haven't been keeping score, and are looking for some options for the home, here are ideas worth considering. These services allow you to stream content from your computer to the TV in your family room… and, also to your mobile devices such as the iPhone, or even the new iPad.
PlayON Digital Media Server

This is my top choice. PlayON (by MediaMall Technologies) does a lot, and it does it well. Further, I've found the service to be robust – I've never encountered a streaming glitch, shows have played through without failure time and time again. Note that there are still ads. Just because it's not cable or satellite, doesn't mean you won't experience commercial interruptions. For example, you can access Hulu's content via PlayON and dial up the latest episode of Glee (currently in summer re-runs). Commercials appear every 10 minutes or so. Fortunately, they're only about 30 seconds long.
You can also access your Netflix queue if you're a subscriber to their rental program. Also available: Amazon VOD and YouTube.
PlayON is easy to install. Download the software and install it on your networked PC. To receive the stream, you need a Nintendo Wii, Sony PS3, Microsoft XBOX360, Moxi HD DVR, NETGEAR Digital Entertainer Live, or other supported device. As far as I can tell, mobile devices, such as the iPhone, iPad and Android smartphones, are not smarted (for that, see TVersity below).
Overall, picture quality is impressive. Most of the streams I tried, however, were standard definition. They looked decent. Still, streaming HD from my local server was a huge leap forward. Great stuff!
PlayON Premium – I received an email this week from PlayON announcing their premium service. The first year is only $4.99, with additional renewals billed at $19.99 (per year). You can also buy a lifetime access for $39.99 which seems like a fair deal. For that you get access to additional content including: Comedy Central, PBS, ESPN3, MTV, NHL, SpikeTV, among others.
TVersity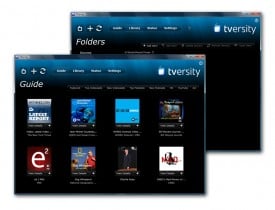 If you want to stream content to your mobile devices, then check out TVersity. It allows you do just that, whereas PlayON doesn't yet. TVersity has been around for a while, and it's steadily improved with age.
Like other media servers, TVersity offers a free download, as well as a premium edition with access to more content.
Installation is, again, easy. Simply download the software (14MB). Install on your PC. Point the software to the folders you want to share (such as music, and video) and it will index it and make available via your home network through other devices such as the Sony PS3, a laptop computer or smartphone.
If you own an iPad, you'll want to check out the updated Pro Edition. It now provides on-the-fly transcoding. This means it will play your videos without any kind of manual conversion. If you want to access Hulu with TVersity you will also need to pay for the Pro edition. It's available for $39.99 for a single license, or $69.99 for a household. Unlike PlayON there are no recurring annual fees.
The list of web sites (aka channels) supported by the Pro Edition is impressive and includes: Hulu, CBS, NBC, The WB, TV.com, ESPN, NFL, MTV, VH1, The Daily Show, The Colbert Report, National Geographic Channel, E Online, and CNN.
Other Choices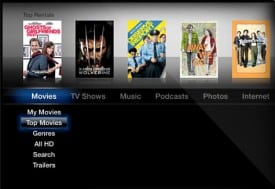 Apple TV is a well known streaming video solution from a tier 1 player. However, the first generation model was not exactly a runaway success. Users complained about limited file support, bugs, general slowness and a 24-hour rental viewing window. Firmware updates and, later, a complete overhaul has eliminated most of these issues. If you're a big fan of iTunes, and easy-of-use then Apple TV should be at the top of your list. Playing Hulu is not an option from what I can tell – at least not without a not so friendly hack or two.
Google TV (with YouTube Leanback). Google has teased with its new streaming service, dubbed Google TV. Utilizing YouTube "Leanback," the company showcased it earlier this year in San Francisco. Partners include heavy hitters, such as Sony, Logitech, Intel, and DISH Network. Although Google TV is not yet available, it looks like it will be the grand pu-bah if it does indeed deliver on the promise. Check out the video for a short demo.
Summary
Internet TV is finally coming of age. There are several choices to get your content fix without monthly satellite or cable bills. If you love live sports, however, you may not want to cancel your services just yet in favor of the Internet – choices are limited for live sports. However, there are many shows now available including popular hits such as The Office, Glee, The Colbert Report, in addition to access to channels including some of the big guys: CNN, CBS, ESPN, etc.
For now, my top choice is PlayON. However, the big guys are coming, namely Apple, and Google (YouTube). Expect some significant announcements as they continue to push for digital entertainment supremacy; not just on mobile handsets, but in your living room as well. Long live the TV!