As we sometimes like to say around here, the show is the thing. Stage, lights, action! As American playwright Arthur Miller once said far more eloquently, "The theater is so endlessly fascinating because it's so accidental. It's so much like life."
There are hundreds of shows opening, and now playing around the San Francisco Bay Area. So our task is always just slightly challenging trying to cover it all. The upside: there is lots to do! So my recommendation would be to take a break from your social networking (just for a few hours – it will revitalize your senses, it's amazing what one can do when communicating beyond 140 characters from time to time), television, and spaceship-building project, and get out to the show.
The updated Theater & Arts guide now tracks over forty venues across the Bay Area, and we're adding more every week. Thanks to an ever-growing number of — intelligent, thought-provoking, witty, glamorous, fun, sexy — contributors including Cy Ashley Webb, Eugene Lee, Patricia Reardon, Al Graichen, Jane Lurie, and Clinton Stark, we've been able to expand coverage of theaters, both large and small. Hopefully, we can continue the pace, and stay on top of a very exciting, upcoming 2010-2011 season.
So here we go, some of the thing to see and do this weekend in, and around the SF Bay Area. As always, if you think we're missing a venue, a show, or even a pirate… please drop us a line or leave a comment below. Now on with the show.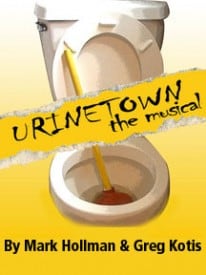 Urinetown
Coastal Repertory Theater, Half Moon Bay
Opens: July 23
If you think that occasionally we are taking ourselves too seriously, Urine Good Company! This irreverent comedy pokes fun at American musical theatre, our cultural institutions, corporate America, and even petty small town politics. Winner of several Tony Awards, including Best Director, Best Book and Best Score, Urinetown, the Musical is an outrageous spoof, and a hilarious tale of love, greed, corruption, and revolution in a time of drought, when even 'restroom activities' are controlled by the megacorporation, Urine Good Company. Fun for the whole family.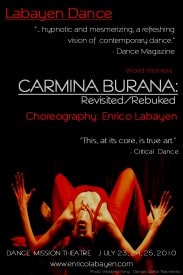 Carmina Burana: Revisited
Labayen Dance/ SF at Dance Mission Theater, San Francisco
Runs: July 23-25
Labayen Dance/SF, one of the Bay Area's most exciting and innovative contemporary dance companies presents the world premiere of "CARMINA BURANA: Revisited/Rebuked" from Enrico Labayen, Isadora Duncan Awardee for Outstanding Achievement in Choreography. The new work is inspired by a Philippine matriarchal ritual called "tadtarin" (Tagalog, lit. chopped/minced) and set to Carl Orff's iconic score Carmina Burana. The evening length world premiere production explores female identities, rituals, tradition, role reversals and relationships through a contemporary lens.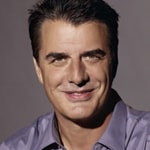 Summer & the Symphony Grand Finale
with Chris Noth
San Francisco Symphony, Davies Symphony Hall
One performance: July 24
Summer & the Symphony's Grand Finale promises to be the summer's can't-miss musical event! Chris Noth—known for his role on HBO's Sex and the City as Mr. Big and currently appearing on CBS's The Good Wife—will narrate Copland's Lincoln Portrait, an undisputed American masterpiece. The spectacular finale also includes the UC Berkeley Marching Band in a performance of the hit Broadway tune "Seventy-Six Trombones."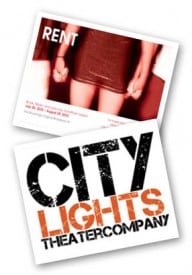 RENT
City Lights Theatre Company, San Jose
Opens: July 24
This fresh and daring spin on Puccini's La Bohème follows the triumphs and tragedies of eight young Greenwich Village bohemians. Mark, Roger, Mimi, and their urban tribe of friends and lovers search for inspiration, passion, and identity in a world rife with heartache and pain. As the spectre of the AIDS virus looms and threatens to cut short their time together, this small band of artists and thinkers finds beauty in the grit and grime of Manhattan and comes to realize that there is, truly, "no day but today."
Send your news, tips and story ideas to press@starkinsider.com. Don't forget to follow us @StarkInsider and like us on Facebook for the latest in SF Bay Area Theater, Arts, Food, Wine, Tech… and maybe even a blooper or two.
SSC – "Twice as fun / Half as smart."