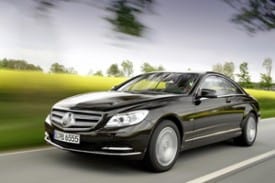 Is the luxury market finally recovering? According to Mercedes' June sales numbers the answer is an emphatic yes. The auto-maker reported today that sales for the year were up 13.2% year/year, thanks largely to strong demand in China and the U.S. With 113,000 cars sold worldwide, June was the best month on record for the premium German carmaker.
Seems like Mercedes is no longer just a desirable U.S. and European car. The hottest growth market was China, which grew 177%. Emerging markets including Brazil, Russia and India were all up over 70%.
The Smart car segment was one of the few disappointments in the quarterly results which saw a sales decline of 17% for the year to date.
According to Mercedes: "Among the model ranges, growth in the first half of 2010 was driven mainly by the E-Class and S-Class. The E-Class sedan continues to be the Number one in its segment, posting a 62 percent increase in sales during the first six months of 2010, to 101,700 units."
What to make of the numbers?
One, affluent buyers continue to grow in emerging markets and regions historically under-represented when it comes to luxury cary buying. The macro trend is the continued development of a strong middle class segment, particularly in China.
Second, the Mercedes product is back on track. After suffering from questionable quality over the past decade and some design snafus, recent models including the redesigned E-Class and S-Class are receiving strong reviews. BMW, on the other hand, may still be recovering from the Chris Bangle design era which led to the famous "Bangle Butt", used to describe the jutting trunk design on several recent models.
Third, fuel costs may not be as strongly correlated to vehicle as expected. While the Smart car model sales declined, larger model Mercedes sedans, which are less fuel efficient, increased. Status, at least in this case, trumps eco-consciousness. Either that or buyers feel gas mileage of the larger models is good enough for their needs, and warrant a premium.