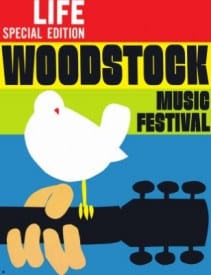 HP is officially taking its MagCloud magazine-on-demand (aka, "YouTube for publishing") service out of beta today. When I spoke with Andrew Bolwell, HP's director of new business initiatives about the announcement he joked, "We decided that when Google finally took Gmail out of beta, we should do the same with MagCloud." In addition, as part of the celebration for the service founded in 2008, HP has released three updates.
Worldwide shipping is now available; that fan of 60's nostalgia in Sweden, for instance, can now order a copy of LIFE magazine's Woodstock Special Edition ($11.60), and have it delivered right to their doorstep.
"Perfect bound" means a magazine printed using the MagCloud service will now look just like a magazine available on a newsstand, complete with pressed spine (as opposed to the stapled version available during the beta period).
Finally, in the what-goes-around-comes-around category, MagCloud is now offering publishers the ability to opt-in to an iPad version of their magazine. By selecting this option, publishers will automatically tap into an audience—now measuring in the millions based on current iPad sales—that can download and view the magazine on the device. All for no additional charge.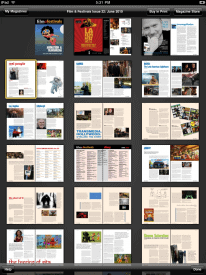 From a monetization perspective, MagCloud is a dream come true for publishers looking to cash in on content archives. The Atlantic, for example, has over 150 years of back-issues. With MagCloud, they can slice-and-dice that content in a way not possible with traditional print media, offering various versions of it to eager readers (and collectors) around the world, on-demand.
The best part for publishers both large and small?
It's low risk. There are no contracts. No minimum commits, or in the words of Bolwell, "You don't need to hope like hell you can break even." All the publisher needs to account for is twenty-cents ($0.20/US) per page. If I were to take all of Loni's recipes, for example, from SSC, and roll them up into a special edition available via MagCloud it would cost us about $10. Any selling price above that would be margin, directly passed on to us, which could be used to defray costs, support a charity, or buy a private jet (note: only applicable to authors of Harry Potter).
"Social publishing" I find particularly interesting. Bolwell, with an understandable amount of pride, told me about its industrious application in his native Australia. Last year a large dust-storm reeked havoc across Sydney (at its peak, sweeping up 140,000 tons of soil per hour), enveloping it and other parts of the country in a large cloud of orange dust. While most read about it online, at least one creative mind thought it helpful to have photos tell the story. He solicited images via social networking sites such as Flickr, Facebook and Twitter. Within 36 hours he had assembled a special edition magazine called "Strange Light" that anyone could order on-demand. It was an example of "real-time" publishing in action, thanks to the notion of crowd-sourcing. It helped people around the world understand the event thanks to a startling series of photos published in a MagCloud magazine.
But why, you may wonder, would someone still want to publish a magazine?
The simple answer: because a market exists.
Collectors like them because they are hard-copy collectibles. Bloggers like them since it allows them to reach new markets and readers that don't typically read online, or seek out additional ways to enjoy the content. The Apple iPad, of course, appears to be a so-called game changer; witness new digital magazine versions of Wired, Bloomberg BusinessWeek, WSJ, etc. Fortunately HP saw this coming, and now affords publisher a free way to reach this new audience thanks to its new iPad MagCloud app.
THE STARK FACTS

What: HP MagCloud, magazines on-demand service
How much: $0.20/per page for publishers (volume discounts available)
New: Worldwide shipping, "perfect bound" binding, iPad distribution
Where: magcloud.com, Apple App store
Who: The Atlantic (Brave Thinking), LIFE Magazine, Sundance Film Festival
Clint's take: A proven, high quality solution for publishers looking to monetize assets. I like that there's little risk (just the investment it takes to create a PDF version of a magazine) and HP handles e-commerce including the transaction and shipping.