I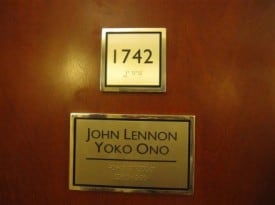 n Montreal, we recently stayed at The Queen Elizabeth where John Lennon & Yoko Ono had their Bed-in for Peace in 1969 from May 26 – June 2. Lennon recorded Give Peace a Chance in Room 1742 on June 1.
The room still exists, and guests can rent it for $799 a night which includes breakfast in bed and a complimentary DVD.
According to Wikipedia, their second Bed-In was planned to take place in New York, but John was not allowed into the country because of his 1968 cannabis conviction. Instead they held the event in the Bahamas at the Sheraton Oceanus Hotel, flying there on May 24, 1969, but after spending one night in the heat, they decided to move to Montreal.
During their seven-day stay, they invited Timothy Leary, Tommy Smothers, Dick Gregory, and Al Capp and all but Capp sang on the peace anthem Give Peace a Chance, recorded in the hotel room on June 1. The Canadian Broadcasting Corporation conducted interviews from the hotel room.
The Bed-in performance has since been re-interpreted and re-used in protests by a number of artists since 1969, most notably Marijke van Warmerdam with her gallerist Kees van Gelder at the same Amsterdam Hilton in 1992 and the Centre of Attention in 2005 in Miami.
A fictional Bed-In protest was also featured in a 2006 Viva Voce music video. The event was referenced in the Oasis song "Don't Look Back in Anger", in which leader singer Noel Gallagher sings "I'm gonna start a revolution from my bed / 'Cause you said the brains I had went to my head." The latter lyric was supposedly said by Lennon during a taped conversation he had at his room at the Dakota Hotel.