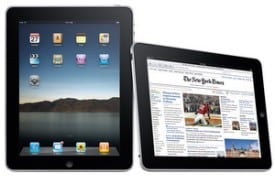 Any doubts about "Antennagate" or the potential for iPad to cannibalize other products were quickly erased today as Apple (AAPL) released stellar Q3 2010 results (ended June 26, 2010). The company posted record revenue of $15.7 billion and net quarterly profit of $3.25 billion. Gross margin was 39.1 percent compared to 40.9 percent in the year-ago quarter. International sales accounted for 52 percent of the quarter's revenue.
"It was a phenomenal quarter that exceeded our expectations all around, including the most successful product launch in Apple's history with iPhone 4," said Steve Jobs, Apple's CEO. "iPad is off to a terrific start, more people are buying Macs than ever before, and we have amazing new products still to come this year."
Some suggested that there could be a surprise–negative–with the results thanks to the circus-like hoopla surrounding the "Antennagate" issue which causes Apple iPhone 4 customers to experience signal loss when the phone is held in a "death grip." CEO Jobs sought to placate those concerned with a special press conference last week to address the matter. So far, if anything, the publicity seems to have only helped Apple by further propelling the company into the headlines on a seemingly regular basis.
Also, any concern that the new iPad would somehow cannibalize Mac sales or distract the company from its core business, were virtually eliminated with impressive growth year-over-year. The only category to suffer: iPods.
Apple sold 3.47 million Macs during the quarter, representing a new quarterly record and a 33 percent unit increase over the year-ago quarter. The Company sold 8.4 million iPhones in the quarter, representing 61 percent unit growth over the year-ago quarter. Apple sold 9.41 million iPods during the quarter, representing an eight percent unit decline from the year-ago quarter. The Company began selling iPads during the quarter, with total sales of 3.27 million.
More details will be available at a 2:00pm PT conference call hosted by Apple.
Conference call highlights:
Antennagate: cost Apple $175M, deferred (free case)
50% of Fortune 100 have deployed or experimented with Apple iPad
iPad: planned 1M units/month; ended up 1M/month 1, 2M/month 2, 3M/month 3
"The demand for iPhone 4 is absolutely stunning."
On Mac cannibalization by iPad: "Too early to tell."
On Android competition: "iPhone sales up 61% despite inventory draw down on transition. Growing substantially faster than the market (IDC @ 38%)."
On app store rules: "We are always looking to make our developers happy. Over 225,000 apps. Crossed $1B in payments to developers. Just launched iAd. The success we've had on the store is unparalleled." and "The vast majority of apps are approved within 7 days of submission. All of us want to assure that pornography and graphic games don't make it to the platform."