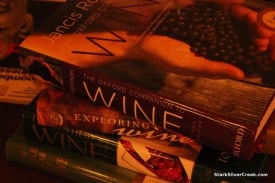 So the first thing I learned; there is a highway 101 in Silicon Valley, but the interstate does not reach the inland Walla Walla region. Instead, we'll land at the small Pasco Tri-Cities airport from SFO some time today, and then make our way by car via Highway 12 for about 50 miles (roughly the distance we travel from San Jose to San Francisco to see a show on any given night).
When it comes to learning about wine, the highways, the people and the places are essential to the plot. It's one of the reasons why attending something like the Wine Bloggers Conference is so enjoyable, if not unpredictable. With 300 wine bloggers, would-be titans of industry and PR folks attending, you can expect a lively event.
Once again, just like at home here in San Jose, I'll immediately find myself as the most uninformed tweet in the room. Walla Walla? Where's that? Ask me about Washington State wines and I'm likely to go on glowingly about the $8 Riesling by Chateau Ste. Michelle (2007 Chateau Ste. Michelle Columbia Valley Riesling Review – A White Wine Bargain) I so often write about, and enjoy with Loni's extra spicy chicken curry. Learning about highway 12, and the 100 or so wineries that call the Walla Walla Valley home is only the tip of the iceberg on this adventure.
So I wondered, what is there to know about Walla Walla?
It's north of Napa and Sonoma. That much I know. Need I know more?
Turns out, yes. Lots more. Instead of Google, this time I turn to a formidable stack of glossy, encyclopedia-like wine books I had accumulated over the years. Taking them off the shelf and making it over to the couch deserves at least a glass of Chard in its own right.
These are moments that scream Apple iPad. I mean, no way in hell I'm taking any of these books anywhere, any time. United would probably charge $25 per book. So, instead, I man handle these beasts. Old fashioned, but somehow appropriate. Okay, let's see then… Walla Walla, I check the indices.
But first: how does Jancis Robinson write such a massive tome? Contributors help a lot I realize. But, this is an astonishing accomplishment of Britannica-like proportion.
Adding up the pages of the most trusty of references: 2,684 total pages across 4 phone books of wine knowledge, trivia, maps, adjectives and pretty pictures:
The Oxford Companion to Wine (Jancis Robinson), 800 pages
The World Atlas of wine (Mitchell Beazley), 400 pages (wimp)
Exploring Wine (Steven Kolpan et. al.), 820 pages (super-slick, best iPad App candidate)
The Sotheby's Wine Encyclopedia (Tom Stevenson), 664 pages (best picklist of wineries)
On Walla Walla, not much, though. On a few pages, words like: "charm", "growing", "standout reds", "1984".
Here are some of the highlights of my admittedly hackneyed approach to research:
The Walla Walla Valley AVA, based in the southeast corner of the sate, was first established in 1984 (Napa in 1981) – it includes Washington and Oregon (there are 5 total AVAs in Washington State).
It was settled in the 1850s.
Production is equal to less than half of one percent of the state's vineyards.
Receives up to 20 inches of rain (more than twice the rest of the Columbia Valley).
The Washington Wine Quality Alliance was created with the 2000 vintage; wineries can advertise using the logo as long as: 100% of grapes come from named place, 100% of the wine is made from vinifera grapes, and reserve only be used when 100% of the grapes are from Washington.
The warmer valley floor has proven very successful for Cabernet Sauvignon and Merlot.
Noted producers (at least according to the CIA's Exploring Wine) include Leonetti Cellar, Woodward Canyon, L'Ecole No. 41, Glen Fiona and Walla Walla Vitners.
Come Friday when the WBC conference begins, the information and learning will come fast. And it will be a most welcome experience. There's nothing quite like being in the actual wine region itself when trying to assimilate the qualities that define its personality.
I can't help but think a small conference like WBC can have a significant impact on a small region like Walla Walla.
Here come 300 hyped up writers, vloggers, industry, trade, media, and bloggers all ready to Tweet, Facebook and Blog at the drop of a Gewürztraminer. How's that for a nice shot of PR?