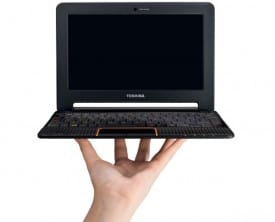 The operating system battle for netbooks just got a whole lot interesting. Today, Toshiba announced it will ship a new netbook, running Google's Android operating system. The AC100, a thin, 10-inch notebook will reportedly run for 8 hours when it ships later this year (August).
While Android is designed, at least initially, for smartphones (such as those now shipping by HTC, Motorola, and Samsung) it seems only natural that Google would target their next large market opportunity: mobile computing. However, unlike smartphones, the new Toshiba netbook will not feature a touch screen. It will be interesting to see how Android runs with a keyboard and mouse interface.
The AC100 also features graphics by NVIDIA (Tegra chipset), Wi-Fi 802.11 b/g/n, Bluetooth 2.1 + EDR, one USB 2.0 port, one miniUSB port, SD/MMC memory card reader, 1.3 megapixel webcam, microphone in, headphone out and HDMI.
Designed for users who store most of their content, such as photos, videos, in the cloud, the AC100 only comes with 8GB of flash storage.
While this looks like an interesting product, the real story is that Google is pushing into another market dominated by Microsoft.
With Windows 7, specifically the more recent "Starter" edition aimed at netbooks, Microsoft has all but knocked out Linux which was the early, much-heralded operating system of choice for manufacturers building netbooks. With Android picking up speed in the mobile space, Microsoft will face a tough competitor. Will users be satsified running cloud-based apps and computing primarily within a web browser? If so, it could usher in a whole new era of computing: lightweight, portable devices with just enough power to connect to large-scale cloud services. Its it deja vu all over again? If memory serves me correctly, this was once called client-server computing.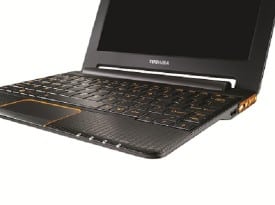 No word on pricing for the Toshiba AC100. But it will ship first in the UK beginning sometime in August according to Toshiba's press release.
Slashgear has already published a hands-on report, and had this to say:
"It's certainly a lightweight machine, though the prototype demonstrated a great deal of flex in both the chassis as a whole and in bowing of the keyboard. We're guessing Toshiba still have a little work left to do in their software optimisation, too, since sometimes moving through the launcher bar icons using the arrow keys froze or grew sluggish, before catching up and whipping past the option we were aiming for. Connecting over the optional 3G modem – in this case on the Vodafone UK network – rendering was slow despite displaying a decent signal. There's also no Flash support in the browser, though you can view YouTube videos through the dedicated app and Toshiba tells us that an update to Android 2.2 complete with Flash 10.1 is scheduled for release sometime over the next few months."