The high school outcasts in Aurora Theatre's Speech & Debate may not know how to comfortably fit into mainstream society, but they sure do know a funky dance move or two. Beneath the George Michael-inspired good times, however, are several serious issues facing today's teens, all especially relevant in this world of social networking. Are we really more "social" as a result of the Internet and micro-blogging services such as Facebook and Twitter, or are we increasingly isolated and disenfranchised? Or, are we dancer?
Speech & Debate, the final play in a strong, diverse 18th season for Aurora, gives us an intelligent look at what Glee might look like without the gloss, and super-slick editing (note that Speech & Debate, written by 30-year old Stephen Karam, came first, premiering off-Broadway in 2007). Many of the same elements are here: sexual ambiguity and experimentation, the quest for identity and belonging, thirst for knowledge, rage against the machine, quirky musical expression. Plus: nude body suits!
Oregon, it seems, is about more than just micro-breweries.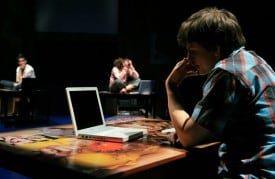 Also prescient is the question of privacy. Facebook has faced increasing pressure for its unclear policies on privacy, and its continued reluctance to ensure users have control over their own personal information. In this play, a right-wing teacher, for example, might lead a liberal lifestyle in a chat room, wooing young male teens to meet for a midnight rendezvous. Should the public have a right to know? Calling Rick Santorum…
The speech and debate club in question is a rag-tag group of three misfits who bring tremendous charm and likability in their quest to be heard. Solomon (Jason Frank) is a budding reporter, and may even be Ashton Kutcher's younger brother. Tape recorder always at the ready, he's drawn to the controversial story—abortion, religion, political sex scandal—much to the concern of the school administration. Howie (Maro Guevara) cruises Internet chat rooms (hot talk!) looking for excitement. And Diwata (Jayne Deely) Blogs drunk on Friday nights with a Casio keyboard providing the podcast groove.
There's a semblance of a story here concerning a sex scandal involving two teachers who may or may not be involved in illegal activities. But it's a secondary concern. Dialog here is sharp. Extended scenes involving sharp repartee evolve from innocence into deep self-examination, loathing. Each of the actors are adept at well-timed, convincing verbal sparring matches. This is where Speech & Debate separates from something like Glee. It has the luxury of going deeper, beyond Lady Gaga and Madonna. There is no commercial break. There is also no intermission. Donny Darko might be a better reference point.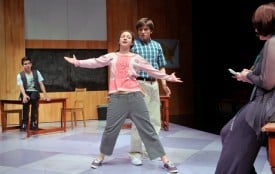 I was floored by Jayne Deely's performance as the creatively eccentric, Crucible-loving, androgynous Blogger who's utter commitment anchors the entire production, and takes the material to the next level. Her impromptu "dirges" are weird and entertaining. Deely alone is reason to see this play, crap sandwich and all.
Pop culture references abound. A projector is used between scenes to mark each act. We see images of George Michael, Adam Lambert, Boy George, and, even Anderson Cooper. Phallic symbols are also featured prominently in a slick—if not slightly cliched—montage.
Speech & Debate is fresh and contemporary. There's a lot to like here. The story itself is a bit of a mish-mash, and it doesn't hold together completely. Then again, nor should it. This is about dystopia, angst. Teen life is complicated; thankfully, it doesn't always need to involve an egocentric high school coach lip-syncing a Madonna track.
Speech & Debate
Aurora Theatre Company
3.5 out of 5 stars
Directed by Robin Stanton
Starring Maro Guevara, Jason Frank, Jayne Deely, Holi Hornlien
Through July 18