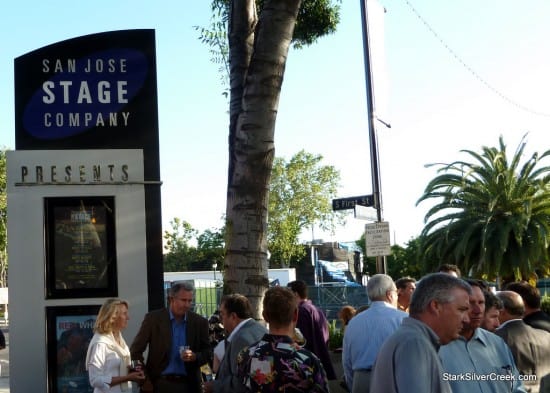 You knew when San Jose councilmember Rose Herrera appeared at The Stage downtown dressed as a teen Catholic school girl, and struck the trademark SNL "superstar" move, that we were in for a very interesting evening. Politicians, comedians and actors once again joined forces for the 17th annual Monday Night Live fundraiser to support the gem-of-a-playhouse, the San Jose Stage Company.
The turnout, which included San Jose Mayor Chuck Reed, proved the passion people have for the intimate theater located at the corner of South First and East William Streets. It also proved that our politicians have a sense of humor, and plenty of nerve; no doubt qualities that come in useful at extended sessions debating recent issues such as cannabis clubs, the San Jose A's, the Raiders, and budget challenges. All were fodder in an evening filled with food, skits, music, and, even, a bong—used in what had to be one of the more interesting City Hall meetings your likely to see.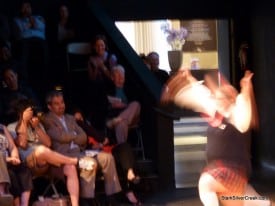 The sun shone down on a pitch perfect evening as a spirited crowd mingled under the trees lining the expansive Stage plaza out front. Tomato Thyme served up some gourmet appetizers including Ahi tuna (my favorite), Asian pasta salad, pizza fingers, and meatballs (or was it sausage?). Meanwhile the bar was doing brisk business with a colorful martini, a favorite. The night was young, and man, was it going to get interesting.
This was my first MNL, so I didn't know what to expect, although I did know the humor (just like SNL) would be hit-and-miss, and filled with lots of insider jokes and references. That's largely the point. And you have to give major kudos to everyone who got up on stage, especially the politicians: Councilmembers Rose Herrera, Pete Constant and Nora Campos, Supervisor Dave Cortese (a trooper as last minute sub), and Supervisor Candidate Forrest Williams. They were fearless in some fairly entertaining bits. Sure there were lots of groans, and plenty of moments that would look right at home at a High School assembly, but in the end, it was hard not to smile.
Pulp Fiction was a constant theme with Vincent (Randall King) and Jules (Forrest Williams) as the vengeance-seeking, constant companions who, in an entertaining video segment "Yellow Cab Confessions", pick-up Dave Cortese and Forrest Williams, and proceed to take them to a waste disposal site (that smell, is it Milpitas?) where things get medieval.
By the time "Weekend Update" rolled onto stage with Keite Davis and Lisa Recker, the performers were really letting loose and, let's just call it, performing creatively. There was a Facebook rant ("let's all log off!" – yes, okay, yes, we've heard this one before… still it brought home the laughs), and even a dig at my beloved Sharks – "BART has a better chance of making it downtown than the Stanley Cup." But hey, any NHL talk works for me.