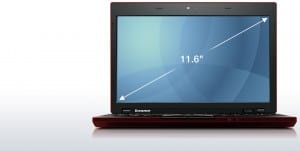 This is the little ThinkPad that could. It's so full of potential, and so close to greatness, it's hard not to cheer it on, even if the anemic AMD processor wheezes and sputters along the way. As it is, the ThinkPad X100e by Lenovo is a decent 11.6-inch portable laptop for those looking for the famous ThinkPad attributes including a best-in-class keyboard, bright screen, and solid build. Unfortunately that energy oblivious AMD chip means this laptop gets warmer than it should. Also, the fan noise, while bearable, is louder than average. At about three hours, battery life, by comparison to netbooks that run all-day, is disappointing.
On paper the ThinkPad x100e is a dream come true, and when it was announced earlier in 2010 I was excited to see Lenovo enter the market with a laptop costing less than $500. Keep in mind  they already have the 10-inch S10 series netbook range available for just over $300, however, the X100e was to be a laptop, not an underpowered wanna be. Hence the inclusion of the AMD Athlon and Turion chips. Weighing just over 3 pounds, and sporting a 11.6-inch widescreen matte display, the laptop was destined for greatness.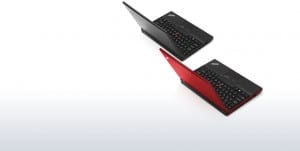 When I received the unit I could see the ThinkPad lineage. It's evident in the understated black frame, which while traditionally boxy, exudes a certain understated business class—the antithesis of a lot of today's tricked out consumer machines. The 6-cell battery juts out the back just like it does on my older T60p. A nice bonus: older power adapters such as the one used on the T60 work on the X100e.
The keyboard stands head-and-shoulders above every other 11-inch (and possibly 12-inch) laptop known to this particular man. Lenovo caused some waves when they switched designs on some newer models, moving to an island (chiclet) layout as opposed to the classic ThinkPad keyboard the world has come to know and love. Rest assured, it's brilliant. Typing on the X100e is a heavenly experience. The keys are individually sculpted and have just the right amount of play. They're all in the right spot too. Large shift, enter and backspace keys are appreciated. Other manufacturers tend to cut short some of them in favor of arrow or navigation keys which can hinder a touch typist's speed.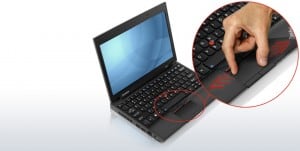 Also on the plus-side are the trackpad and trackpoint—that iconic red nub that sits between the 'G' and 'H' keys. If you're a trackpoint fan, then the experience here will be familiar. It works well, and eliminates the need to move your hands away from the keyboard to move the pointer. Also, the trackpad is large, and easy to operate. The two buttons are responsive, and not overly loud (i.e. no clack). However, the left one on my tester did seem wobbly (dodgy as they say) and would sometimes clack depending on where I pressed down. A small quality control issue perhaps.
Our X100e had the AMD Turion Neo X2 Dual-Core L625 (1.6GHz, 800MHz, 1MB L2) processor, which as I've mentioned is its Achilles heal. While it does offer slightly better performance than a traditional netbook, the increase is so marginal, and the battery life compromise so severe, that it's stuck in no man's land: poor battery life, with average performance. Time again, the fan would begin whirring while a Toshiba NB305 next to it would run silently, performing the same operation (web browsing on a flash site). Worse still, to get battery life anywhere close to 3 hours, you have to ratchet down the performance, which makes the X100e positively sluggish. Running on power seems like the best idea, which kind of defeats the purpose.
I have no complaints about the screen which offers bright 11.6-inch display with HD resolution. Contrast was okay, but could've been better, especially when compared to netbooks such as the HP 5102 or Toshiba NB305. But I really like the matte finish which makes it easier to work outdoors by reducing reflections.
So in the end, it's a bit of a challenge. Is this a screaming deal… a ThinkPad laptop running a full-blown version of Windows, with a stellar keyboard, all for under $500? Or is it an overpriced netbook, with inadequate battery life, and marginally better performance?
That's a tough call. For coast-to-coast business travelers that need all-day performance, the X100e is a no-go. But for those that appreciate the full ThinkPad experience—the keyboard, the Trackpoint, the build quality—it does deliver on the promise. I do wonder, though, is this ThinkPad one Intel chip short of greatness?