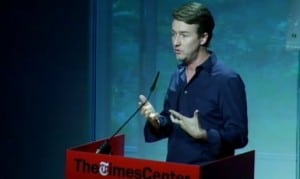 You can add yet another personality to Ed Norton, star of Fight Club. Although this one is not related to project mayhem, it does share one thing in common with that effort: he's trying to rally people to support a common cause. In this case, fundraising for non-profit organizations. I discovered his presentation on the Mashable YouTube channel which contains a series of clips from their recent conference, Mashable Media Summit, held in New York. And as a quick aside, isn't it keen how the old trade show (Comdex, CES?) model has been re-born as these clever mash-ups of tech, art, music (SXSW, TechCrunch Disrupt, TED)?
The name of Norton's start-up (see the video below) is Crowdrise ("if you don't give back no one will like you"), and it borrows heavily from the spirit of social networking in an attempt to harness "the power of the crowd" in a substantive way. His goal, like the actor himself, is ambitious. Using the web site, he'd like to see over $100M raised to support non-profits. Maasai, one of his projects in Africa, is an example he cites of rallying people through a combination of networking, awareness raising, and, also—he notes as essential—fun. So far, they've raised $50,000 that will go towards the purchase of two Land Rovers for the organization.
Using social media for substantive results
Norton comes across well in the video. Sure I realize he's plugging his project and start-up, but his intelligent, and pragmatic approach to the presentation appears quite genuine. Involved in philanthropic endeavors for a while, he mentioned that most non-profits were merely digitizing annual reports.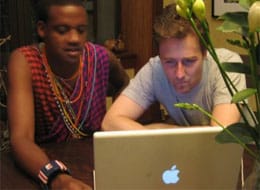 He says, "They were not effectively using contemporary, web-based social networking tools to enhance, in a meaningful way, their fundraising efforts."
Inspirational spaghetti sauce
Even Paul Newman apparently inspired in germenating Norton's idea last year. He purchased some of Paul Newman's spaghetti sauce (Newman's Own) and was moved by the amount of money that organization had raised.
Now he'd like to see Crowdrise achieve something similar. If he and his partners can raise $100M via the social-crowd model, then he'd "stack that up against any award anyone would want to give me for doing movies." Well – let me clarify, except: Fight Club!
Cutting through the social media chatter
It will be interesting to follow this type of Web 2.0 activism. Will it succeed in rallying people to support common goals and achieve "substantive" results? Or is it just flash-in-the-pan, hyperbole, driven by a bankable Hollywood star? I'd suggest the former. And legitimate attempts to do good, with quantifiable objectives and clear mandates, is a worthy way to spend extra time. It's a tough sell though, as Norton notes, "to cut through the white noise of social chatter."
But did he really have to say "robust platform" and "template" – he'd fit right in here in Silicon Valley.
Plant a flag – Raise a fist
Which got me to thinking… do you think the bad guys—the ones organizing project Mayhems in this world—have a similar web site for collaborating on destruction? Probably. At the very least, I'm sure it would make for an edgy Hollywood thriller.
Edward Norton presents at the Mashable Media Summit