The latest Teatro ZinZanni dinner theater show, Love, Chaos and Couture, proves once again why this circus troupe is so wildly popular. In its tenth season, people keep coming back for more. Again we were seated at a table with a couple who had come out for a sixth helping of ZinZanni-ness. And that's not uncommon. Just a few months earlier Loni and I enjoyed their special tenth year anniversary performance, and also encountered serial fans—a Saratoga couple involved in venture capital.
For the uninitiated, Teatro ZinZanni is dinner theater with circus acts sprinkled throughout a five-course gourmet meal. Set in an intimate tent, tables line the stage itself, which sits (aside from the occasional lift) at floor level. Performers zig-zag through the audience. Entertaining and acrobatic routines happen just a few feet before your eyes—and caesar salad.
Speaking of Caesar, in this production he's the featured host (played by Frank Ferrante, who returns to ZinZanni after a two year absence). A wild-and-zanny-Steve-Martin kind of guy with heavy makeup and colorful costume, he enters on a chariot: "I am Caesar!" His quick wit is impressive, and I agree with the New York Times; he very well could be "the greatest living interpreter of Groucho Marx's material." You can appreciate some of that technique, even in his Caesar get-up. At times I felt like I was watching a modern-day version of Guy Caballero of Second City Television—just replace the wheelchair with a chariot.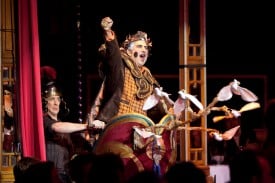 Audience interaction is central to the show. Its success (or lack thereof) determines a large portion of the laugh factor. On this particular evening, there were some average routines involving asking people their names, dressing down their occupations and wardrobes, as well as training them for a fashion show that would cap the evening.
Some of the performers we saw last time were back again for more. Thankfully this included the way-too-sensual-for-any-man, Ukrainian contortionist and sex kitten Vita Radionova who's curvy, erotic performance should be banned outside of Europe. Either that, or given its own 24-hour specialty channel.
At times, charming routines—two comically gifted guys in a Laurel and Hardy-inspired bit attempting to change a light bulb—run too long, and lose momentum. Instead of 15-20 minutes, they'd be better at half the running time. But at Zinzanni it's all about the never-ending performances. First they're in front of you, then parading on a raised platform, then on a stage over in the corner next to the live band.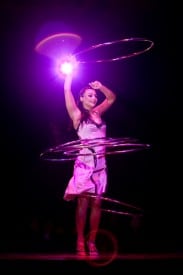 Once again, everyone had a great time, with lots of applause, side-splitting laughter, and chatter at the tables nestled in amongst velvety decor. Overall, though, the show is primarily three average variety shows all tossed into one: part circus, part stand-up routine, part Paris nightclub act. Jokes about male anatomy, the color pink, mixed together with a dash of profanity, contrast awkwardly at times with the supposed classy moments when diva Liliane Montevecchi is channeling the streets of Paris. It's a little odd. To others, perhaps, this is the variety and the spice that helps drive the entertainment factor.
The food is decent. In a city like San Francisco, even the finest of restaurants have a competitive challenge satiating the foodie, let alone a circus tent filled with hundreds of theater-goers.
Teatro ZinZanni
Love, Chaos & Couture
3.5 out of 5 stars
Pier 29, Embarcadero, San Francisco
Wednesday through Saturday at 6 p.m. and Sunday at 5 p.m.
Tickets priced from $117 – $145