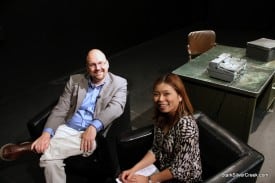 It's been quite a year for the innovative Cutting Ball Theater. Nestled in the colorful Tenderloin district, the 70-seat theater is celebrating its 10th season in style. Its first production of the season, Ionesco's iconic, absurdist The Bald Soprano, picked up six Bay Area Theater Critic awards. And, in February, American Theatre magazine ran a cover story on artistic director, Rob Melrose, and partner, Paige Rogers.
Paige Rogers came down with vertigo and—doctor's orders—had to withdraw from the lead role in Eugenie Chan's Bone to Pick and Diadem. Never ones to miss a beat, they did a quick two-step bounce off the nearest wall and replaced it with Beckett's Krapp's Last Tape.
The one-person play tells the story of an older man listening to recordings he made when he was young and in love. It is an intimate look at the choices we make in our lives and the unexpected consequences that come from them.
"The tape recorder had just been invented when he [Beckett] wrote the play," artistic director Rob Melrose tells Loni. "You kind of get these looks at this one man at three different time periods. It's a really interesting way of looking at an entire life in a compacted amount of time."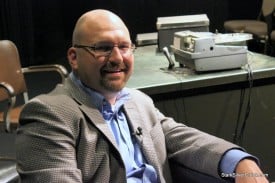 In this special dark-and-moody episode of SSC Presents, Rob discusses the play, Cutting Ball, and what it's like to celebrate ten years of "deliciously brainy" theater.
With a current operating budget of about $300,00 (having grown from $400), Rob and his team once again proves that creative forces can emerge triumphantly despite challenging resources.
WATCH: Cutting Ball Theatre – Rob Melrose
To see a show at Cutting Ball is unique, special and memorable.
I'll never forget that chilly fall evening when Loni and I walked (with tempo) across the Tenderloin, and into the blue-walled tiny space (see The Tenderloin Experiment). It was like walking into a different universe. It was very cool. The place was humming on opening night for The Bald Soprano. We enjoyed some coffee, mingled with staff and patrons, and shot some fun on location video, with a admittedly ridiculous homage to horror director Dario Argento. Why? I have no idea-it was something about the way the trees were blowing on Taylor. Either that or absurdity got that best of me too.