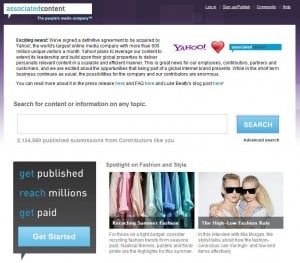 Carol Bartz, part CEO and part cursing pirate, believes Yahoo can become a media portal. It's a bold vision, and in some ways even a return to the past, but one that at least gives the dimming Internet giant hope for returning growth and profits. In the latest strategic move, the company has acquired Associated Content in a deal reported at $100 million (some reports indicate the deal is closer to $90M). As the name implies, Associated Content is an aggregation of user-generated content across 60,000 topics. The site receives 16 million unique monthly views, and has 380,000 contributors creating content in the form of articles, video, and audio.
"We feel that a contributor-driven model is absolutely part of the future of media," said Matthew Idema, vice president of local at Yahoo.
From an FAQ about the deal, "By adding Associated Content to its network of properties, Yahoo! can boast the web's most sophisticated crowd-sourced content platform, over 2 million articles and videos and, most importantly, you – the web's largest, most prolific and talented community of content creators."
User-generated content is a big trend.
Facebook, Twitter and other social networking sites and content management platforms (such as WordPress, Blogger) are all capitalizing on an emerging class of self-publisher. YouTube is another example of this explosion of people who want to tell the world something, whether it be a serious piece on Iraq, the future of Healthcare, or… just a cat playing a piano.
TechCrunch was not impressed with the move, "The move by Yahoo has some industry observers shaking their heads… It remains to be seen where on the quality spectrum Yahoo's new content farm will sow its seeds. Maybe Yahoo just wants the technology platform and access to all of those crowdsourced contributors. But it didn't need to pay $100 million for that."
Yahoo does not have the best record when it comes to integrating acquired companies (Maven, GeoCities, Farechase, etc.) so many will rightfully question the future of Associated Content. Plus there is no reason to expect that contributors will continue to generate content if they can find better deals elsewhere. Since AC is not a household consumer brand, you could argue the assets in this deal are of limited value.
Others have a more positive take on the deal. At least one from IDC has been quoted in BusinessWeek as calling it a "smart move."
Despite the arm-chair quarterbacking over the deal, it perhaps marks the beginning of another wave of merger and acquisition activity. It also highlights the increased importance of content, and the amounts the aggregators and publishers are willing to pay in order to built out new media strategies.