The Curran Theatre in San Francisco was one heck of a fun place to be last night. Touring Broadway show (by SHN) In the Heights opened here to an enthusiastic crowd and did not disappoint, demonstrating why it nabbed a 2008 Tony for best musical, and a Grammy for best original cast album. The dancing and singing are filled with passion, sizzle and helpings of sexiness. High-octane, indeed.
During the opening number, the title track 'In The Heights', Loni leaned over and whispered, "Wonderful singing. Inspired choreography. Beautiful set." By the end of the show we were both convinced that it is a feel-good, innovative hit.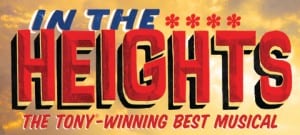 I'm normally not a fan of musicals (with soft-spot exceptions for The Wizard of Oz and The Sound of Music), but was quickly won over by this production. The variety of musical styles, the diversity of the characters, and the quality of the talent prove In the Heights is not a tired re-run, and joins the ranks of fresh Broadway shows, such as American Idiot and Spring Awakening, that thankfully push the envelope.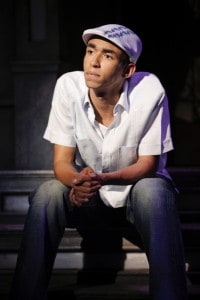 The story is about a transitional neighborhood, Washington Heights, in the heart of New York City. It's a place where immigrants establish their roots and, as is the case here, start businesses to support their families. Thanks to a multi-cultural mix including Dominicans, Cubans, Ecuadorians, and Mexicans, life here is vibrant, filled with possibility, but not without struggle.
This is like Gilligan's Ghetto Island!
Kevin and Camilla Rosario run a small car service. Their daughter, the only member to make it to college, finishes her first year at Stanford, but has doubts about continuing (but don't say drop out, it's "leave of absence"). Benny, who works for the family business, loves her, but because he's black, he's not welcomed into her Puerto Rican family at first. Across the street, Usnavi pours sweet coffee (with condensed milk) and is in love with the local shampoo girl Vanessa.
No doubt the story is soapy, and quite predictable. But it's of little concern because the characters are so likable, foibles and all.
The electricity of In the Heights comes from the singing and dancing. Both are marvelous. With a cast of over twenty, the stage can become crowded. Fortunately, it never feels that way thanks to the well-timed and clever choreography that has actors hopping, spinning, sliding, grooving and jumping all over the place. Somehow, like Loni told me later, it's cohesive. And infectious too. I couldn't help but smile through it all.
You think Bert would ever abandon Ernie?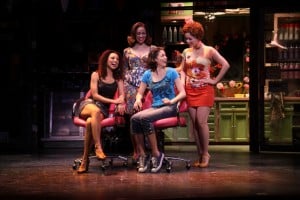 Kyle Beltran is a standout in the lead role. He channels a street savvy, but spirited youthful energy. Living with his grandmother, he's immediately someone we're all rooting for. His voice was particularly likable. At times he sounds like a Latino version of Eminem. He raps, struts across the stage, telling stories, with a voice that is smooth, and relaxed in cadence, but edgy when need be.
When he struggles to open some champagne, throwing in a few choice words (in tune no less) as he fumbles with the gold foil, it was easy to like the guy. Been there, done that!
Although it didn't bother me, some criticized the set of Fiddler on the Roof, staged earlier this year. With this set I don't think there will be any complaints. The George Washington Bridge beckons dramatically in the background, while the street out front comes to life in eye-popping detail. Everything looks like it's been there for ages. You can feel the history. It avoids a Sesame Street feeling thanks to the depth of the interiors and the soaring heights of the building.
Then there's the orchestra. What pop! The horns and percussion in "The Club" just before intermission tore the place apart, as the actors celebrated like nobody's business.
Peter Pan, over in Ferry Park at the Embarcadero, is magic for children, but In the Heights brings the heat for teens and adults.
In the Heights
Curran Theater (SHN), San Francisco
Directed by Thomas Kail
4.5 out of 5 Stars
Set design by Anna Louizos, costumes by Paul Tazewell, lighting by Howell Binkley, sound by Acme Sound Partners
Through June 13, 2010
Noteworthy

DAVID BAIDA, the Piragua Guy, had to bow out at intermission, and his understudy stepped in to finish the evening, handing out softies with a grin and supportive applause from the audience. It must be difficult to slot into a show with everyone else around you already warmed up. Is it like a backup NHL goalie coming in to a game (2nd period, game 7) to face shots from a red-hot Cinderella French team (i.e. Montreal beating the defending Stanley Cup champion Pittsburgh Penguins). Just wondering.
Washington Heights has been home to a number of famous residents including: Alan Greenspan, Henry Kissinger, Dr. Ruth Westheimer (okay, scratch that one), Duke Ellington, Count Basie, Vin Scully, Rod Carew, Manny Ramirez, Alex Rogriguez, Freddie Prinze (who?), Leslie Uggams, and Laurence Fishburne (now we're talkin').
36% of New York City's population is foreign born.
What is it with theater people? Really. Really! There was a non-stop flow of in-and-outs a few rows in front of us all night long. It's understandable for emergencies or to bolt for the restroom unexpectedly. But these same folks were dashing in and out all-night. Yes, call me pedantic. Or a knob. Really? I'm just trying to enjoy the show, really. PS – Go McGruber.
Was Stanford itself given the stereotype treatment in this musical?
Sorority party: Opening night at SHN is always filled with familiar faces.
Oh, say can you… The fireworks in this production are wickedly good.
The Curran Theater is the perfect place to see In The Heights: comfortable (if occasionally squeaky) seats, good sight-lines, ease of ingress/egress (as was demonstrated to us during the show repeatedly… did I mention that already?)
COMING UP @ SHN: Young Frankenstein, Beauty and the Beast, Dreamgirls.