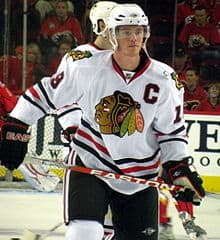 The San Jose Sharks looked good in practice, and the Chicago Blackhawks looked good finishing off the Vancouver Canucks today as the NHL playoffs continued. And now, after Chicago's 5-1 decisive win that clinched the series in six games, the two heavyweights will face-off in the conference finals.
As I've mentioned before, there's something about that Original Six fairy dust that continues to drive one of the story lines in this year's playoffs. Three of the Original Six teams that comprised the NHL from 1942 to 1967 (the last year the Toronto Maple Leafs won a championship) are among the 5 remaining teams vying for the ultimate in ice supremacy.
Meantime, Sharks: rest, rest, rest.
Tomorrow we will find out the last of the final four to reach the conference finals. Can Montreal finish one of the biggest upsets in recent memory in a game 7 sure to electrify in Pittsburgh?
We do know the San Jose Sharks will face the Chicago Blackhawks in a best-of-seven series that will see the winner move on to the Stanley Cup final.
Meantime, Sharks: rest, rest, rest.
I was surprised how quickly Vancouver went from a powerhouse to a has-been this year.
Part of that has to do with the depth of talent, and youth that Chicago brings, especially in superstars Patrick Sharp and Patrick Kane. Monster forward Byfuglien has turned into a formidable obstacle in front of opponent's goalies wreaking havoc with his size (6'4″, 257 pounds) and aggressive, but not foolish, demeanour.
If it's one thing the Shark's upcoming opponent lacks, it's experience. Thornton, Heatley and Marleau bring a deep resume of playoff experience, if not disappointment. Then again, others may suggest that it also brings high expectation whereas the Blackhawks have nothing to lose, merely playing as the energetic, free-spirited youngsters that they are.
No series at this point of the playoffs is remotely easy. It's not a matter of size, talent or even experience when all is said and done. It will almost always comes down to the little things; a lucky bounce here or there, an untimely injury, an unsung hero.
Yes, cliche Gods strike me down; expect the unexpected.
Meantime, Sharks: rest, rest, rest.
But I'm still willing to put a stake into the ground, or at least a pike into the frozen pond: Sharks will win the Western finals in 6 games. If I'm wrong then I reluctantly accept a stinkin' glove rub of love to the face.