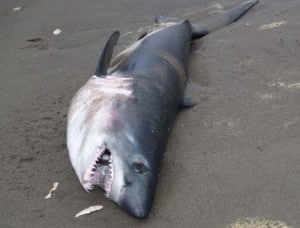 Next time, maybe Pavelski should take acting lessons from Vince Vaughn on how to "sell" a goal, just as the guys from the Versus network suggested during the intermission of tonight's 3-2 OT win for Chicago. I'm not so sure Vaughn, dressed in full black and red home town attire, was eager to help out the current —albeit severely wounded—enemy of his Original 6 darlings. In the end, that disallowed goal was the difference.
The game instead went to OT thanks to late Marleau heroics. But unstoppable bruiser Byfuglien scored a crushing goal in front of an ecstatic crowd, and now the Sharks are one loss away from being eliminated from the NHL playoffs.
Swingers everywhere, book your Vegas tickets: celebration is imminent.
Oh boy, this is getting dull and annoying real fast. Niemi outperforms Nabokov again. Thornton doesn't get on the score sheet again (and Heatley picks up an assist, but no goals again). The Sharks sag in the middle again. If I wanted this kind of heartburn I'd write about the Ottawa Senators.
I wish Couture and McGinn were given more ice time (they played well with more of it in OT). I know they're young and inexperienced, but when nothing else is working, why not ratchet up the energy?
Neither Nabokov or Thornton made a difference in tonight's game, yet they played well. Nabakov has seen his fortunes fade in the series with a GAA over 3. Superstar Thornton holds an abysmal -10 rating in the playoffs. I admit I feel for the guy, he shows flashes of strength and out-of-this-world talent. At times he is a giant among men, so to speak. But it's for nanoseconds. The Sharks need it for minutes.
The turning point tonight might have been the Sharks' 5-on-3 early in the second period. For almost two minutes of penalty time, they tossed the puck back-and-forth, with an occasional misfire (Pavelski and Boyle). Then Marleau, the team's most consistent playoff performer this year, picked up a rebound in the slot and snapped it to the back of the net, just escaping Niemi's outstretched glove. But Chicago would not roll-over so easily. Not in the slightest.
Patrick Sharp's back-door goal (7G, playoffs) in the second period was not exactly a surprise. At even strength, the Blackhawks had been taking it to the Sharks. The ice was tilted, aside from the advantage that resulted in the Sharks' first goal. But what a brilliant goal-line pass from the corner by Toews! That's how you thread the needle. All Sharp had to do was redirect the puck to the open side. Later, Toews would add another assist. With a point in the last twelve consecutive playoff games, the talented star passed Stan Mikita for the all-time Blackhawk scoring playoff streak. But this is about the Sharks, n'est pas?
On a clean sheet of ice in the third period, Joe Thornton deftly poked the puck from Defenseman Duncan Keith and charged the net, even getting a shot away with two guys draped over him. The ensuing powerplay yielded nothing, but it did appear to wake the team up.
The Sharks once again decided to start hitting, passing and shooting after a second period sojourn to invisible land.
Unfortunately it produced naught-a and then with only 6:55 left in the third, "the rat found a hole." With a sweet burst of speed, it saddens me to say, Bolland scored a monster goal on an impressive individual effort. Somewhere a fat lady in Silicon Valley began to loosen her chops. It took another lucky bounce, however, again in the direction of white hot Marleau to even things up with under five minutes to go.
In OT though things went from grim, to very grim.
Here's something Chicago does really well: Flick the stick. Blackhawks players constantly use short passes and shots based on a rapid flicking motion that shortens the effective use of the stick. It's analogous to golf perhaps. The Sharks are driving for show, the Hawks are putting for dough. Watch for it; is it a new trend?
So, this is what it feels like to be dead, or lifeless.
To come this far, only to be swept would be devastating. I hope San Jose has just enough gas left to bring it home for at least one more appearance at HP Pavilion. The fans and the season both deserve that much. Let's go boys!