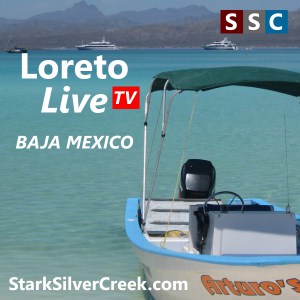 It's true. When you're in Loreto it's hard not to dance, and celebrate. Good weather. Wonderful people. Fun shops. And, as Loni will attest, world-class Tortilla soup. In this episode of Loreto Live TV, we head downtown for some relaxed shopping. During the trip we chat with some of the shop owners and the artists who put their hard work into handcrafted works.
Another amazing thing about this small fishing village off the Sea of Cortez is the sheer diversity of personalities it offers visitors. Downtown feels vibrant and bustling compared to the tranquility of an early morning kayaking session on the glass-like sea. Heading inland towards the towering (and spectacular) Sierra de La Giganta opens up an entirely different world, possibly even more historic. Those that have made the one hour trek to San Javier will know the feeling of chugging ice cold beer at a cozy, friendly cantina surrounded by a scorching desert. Paradise lost!
But this time it's all about downtown. The roads are nicely finished now. And City Hall is as photogenic as ever.
Embarrassingly, you'll see that Loni and I have much work to do on our Spanish. We started language training a few years back, but only got to the simple greetings parts. And how to order a beer.
This was shot on el Flip. So expect some flippy, hand-held style action. It seems to suit the character of Loreto perfectly. The energy is contagious, and it reminds me of a Baja version of Glee. Well, sort of. At least the dancing. But without the big budget, singing and professional acting parts.
Saludos, and see you soon in Loreto!