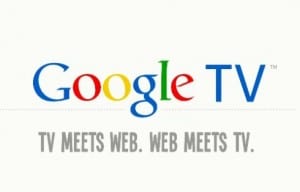 Yogi Berra lives. As he famously once said, "This is like deja vu all over again." I wonder if he realized that his words would be so appropriate in describing 21st century consumer electronics. Just like the Newton was reborn as the Apple iPad, Google is hoping that WebTV will be reborn (far more successfully) as Google TV. Announced today at Google I/O together with a panel moderated by Google CEO Eric Schmidt and featuring CEOs from 6 partner companies, it will integrate technology such as YouTube into set-top boxes designed for the living room.
One feature Google TV will use, called "lean back," streams personalized video feeds on the fly, inserting favorites, and content that your friends like. The idea is to "make the living room social."
Adressing partners and a room of developers, Eric Schmidt said, "We need you to take this platform and build extranordinary things we have not yet conceived of. We now have the tools, we have the volume, we have the economics and we have the scale. We can define how people entertain themselves and learn in what has historically been a medium that never, ever changed. This is a very exciting beginning."
Companion boxes will ship via Best Buy. Powered via a special version of Intel's Atom processor that will provide HD decoding, consumers can use keyboards and remote controls to surf video. In addition, Google TV will find its way into TVs, Blu-Ray players and DVRs.
Other partners include Sony, Samsung, Logitech, and Dish Network.
In remarks before a casual and entertaining panel discussion, CEO Eric Schmidt indicated that there have been significant improvements that make this possible now (referring to why WebTV may have failed); namely the Internet, CPUs, software architecture, the "winning" of open source, and a powerful ecosystem of partners.
Shantanu Narayen, CEO of Adobe, received the most interesting introduction by Schmidt who alluded to the last few weeks without directly mentioning Apple.