One of the most popular sections on Stark Insider is our gardening section which features my plans for a raised vegetable planter box. I love receiving photos of the results that many readers have had with the plans.
I know quite a number of you built them for your wives and mothers on Mother's Day which I was very happy to hear. For those of you that haven't, it's never too late!
Recently, Breanna wrote in to tell us about another benefit of the planter box. It is doggie-proof!
Hi Loni!

I came across your website on Friday night and here I am Sunday night with a completed planter box based on your design!! My boyfriend and I have wanted a garden (he lives in Baton Rouge, Louisiana), but we needed it to be resilient to 3 rambunctious and very mischievous dogs. We found your site and were anxious to get started, so my apologies for not emailing you sooner for the plans and permission to use your concept. We used your list of supplies and were pretty successful by looking at your photos for directions. We only made a modification to the legs since we couldn't get 4x4s; we screwed 2 2x4s together and added a support beam, and also added 2 more legs. We also followed some reader comments about adding landscape fabric as a lining. We are so excited and pleased with the final result, my compliments to you on your original design!

Be sure to add "dog proof" as one of the advantages to your design :) Mojo, Pumpkin, and Snarf won't be getting any of our veggies. Attached are 2 pics of the final result.

Many thanks and happy gardening!

B & M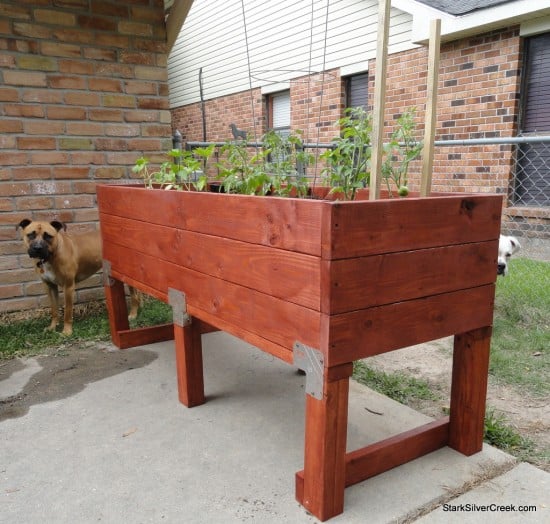 Thanks for the note Breanna. I absolutely love these photos with your dogs, they are so adorable!