A.C.T.'s favorite theatrical couple return in Vigil, a heartfelt fable about life, aging and companionship. Academy award winner (Moonstruck) Olympia Dukakis and Marco Barricelli positively light up the stage with scintillating chemistry and natural emotion that's never overwrought.
Dukakis plays Grace, a woman of few words, who's enjoying butterscotch pudding and simple everyday things during the last days of her life in a small attic apartment overlooking the neighborhood. Along comes her long-forgotten Nephew Kemp, a likable cynic and professional self-loather, played by Marco Barricelli with a hint of buffoonery, a dash of woe-is-me, and generous helping of the lonely heart club. No wonder, his Dad was a "failed magician".
The two-person play immediately captivates with a staccato-like rhythm and one-liners that draw us into an awkward and unlikely relationship that eventually blossoms.
Kemp wants to know why, after all these years, his Aunt never wrote him back, or even sent a birthday card. And now here he is, after quitting his not-so-important banking job at a not-so-important bank, to care for her—although he would prefer if she hastened her death schedule.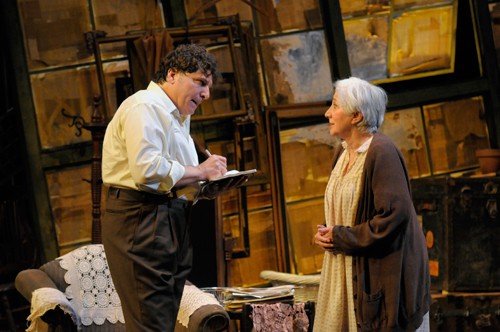 They are both lonely souls who find themselves drawn to each other's company. And it seems Kemp has a lot of inner angst. He rails against people, children, life and his sense of duty that requires him to be here—antique nicknacks as far as the eye can see—caring for Grace.
In the second act, after a few seasons and years have passed, layers are further removed and some of the earlier follies take on new meaning revealing very human truths; plus an epic twist that sheds new light on the predicament.
All I can think of is mother passing out in the gravy. That's the year she bought Dad a gun.
Both stars deliver brilliant performances. Marco Barricelli is an absolute force. A gentle giant one moment, a sexual curiosity the next. One can never quite peg him. He segues with utter ease from monologues dripping in melancholy to laugh-out-loud hysterics (the "death machine"!).
Meanwhile Olympia Dukakis gives a masterclass in nuanced reaction, facial expression, and physical presence. It is pure theater joy to watch. Despite only a handful of lines she gives Grace an endearing personality, and we're left as inspired and touched by her quiet demeanor as we are by Kemp's desperate, occasionally scatological, rants.
Merry Christmas!
Canadian playwright Morris Panych (who also directs) has brought the Bay Area a gift in Vigil. The play, which debuted in 1995, doesn't rely on lightweight sitcom or throwaway lines. Instead, it gradually ratchets up drama through increasingly deep narratives on, yes, the human condition.
Loni and I both agree the set, lighting and sound design are all top notch—again A.C.T. raises the bar. At times I felt the whole production felt like something Hitchcock would produce; simple human nature exposed against the backdrop of windows, curiosity, and desperation. I've never seen door and interior walls placed on such interesting angles before. It's clever.
Vigil is absolutely unique. We're left touched, inspired and entertained. Quite a feat. And there's a long list of reasons to see it—superb acting, stellar set, classy lighting, elegant sound.
But most of all it causes us to think about, and perhaps appreciate in a new light, all the small things in life that ultimately define the relationships that matter to us most.
Vigil
American Conservatory Theater, San Francisco
4.5 out of 5 stars
Written and directed by Morris Panych
Starring Marco Barriecelli and Olympia Dukakis
Through April 18, 2010
Noteworthy

Olympia Dukakis has appeared at A.C.T. five times, including twice in the title role of Hecuba.
Canadian playwright Morris Panych is best known to Bay Area audiences for the runaway hit production he co-created and -directed The Overcoat, which launched A.C.T.'s 2005-2006 season.
Vigil has been translated into 19 languages to date and has received highly praised productions in London's West End and in Paris.
Next up at A.C.T.: Round and Round the Garden, April 29–May 23, 2010.