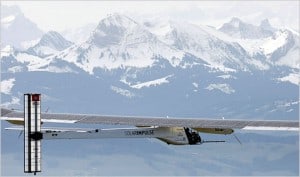 The only question now is what happens on a cloudy day—perhaps a rapid descent? Other than that the first test flight for a solar-powered airplane, with a wing span as long as a Boieing jet and weight of a standard sedan, completed an 87-minute test flight today.
Designed by Swiss adventurer Bertrand Piccard, a round-the-world balloonist, the 90-minute maiden test flight proved the plane capable of taking off and landing.
"This first mission was the most risky phase of the entire project," Piccard said. "Eighty-seven minutes of intense emotion after seven years of research, testing and perseverance. Never has an airplane as large and light ever flown before!"
Instead of fuel, the plane uses 12,000 solar cells.
In regards to flying without sun, a night flight is scheduled for later in the year.
The big take off will happen in 2012 if all goes to plan. Two co-pilots will attempt to cross the Atlantic Ocean before circumnavigating the globe.
"We still have a long way to go until the night flights and an even longer way before flying round the world, but today, thanks to the extraordinary work of an entire team, an essential step towards achieving our vision has been taken," Piccard said.
Despite all the technology, at least from what I can tell, sandwiches will only be sold a la carte. And in-flight wi-fi is not yet available.