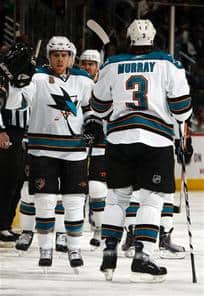 In a post game interview after tonight's 5-2 victory by the Sharks to close out the series against the Colorado Avalanche, Boyle sarcastically asked, "We're not going to talk about Game 3 are we?"
No, we're not.
The game 3 own goal is now a distant memory. And Boyle's goal in his first shift the following game was the turning point in the series that began a Shark's rally and led to a come from behind series win.
Amazingly, neither regular season set-up man Thornton nor sniper Heatley scored a goal. Instead San Jose showed great depth with Pavelski paving the way with five goals in the series for a group of young talent that includes emerging rookie Logan Couture (Ottawa 67's!) who came through with two goals in game five.
Ultimately perhaps Colorado relied too much on Craig Anderson. At the other end, Nabokov finally shook off the Olympic doldrums where he was heavily criticized for his poor play for Russia, and was solid the rest of the way.
So the Sharks are through to round two, while my home town team Ottawa heads to the links. My dream Stanley Cup match up was not meant to be. But my next best match-up is: the San Jose Sharks versus anyone else.
The best part of the Shark's performance in this series has been their balance.
Despite a lack of top line scoring, they were able to win. Ryan Clowe was the only Shark as of yesterday to even grace the top 30 leaderboard for playoff points.
So what was the difference this time over last year's early exit.
Pavelski said, "Urgency is in our game. We're prepared to work."
Captain Rob Blake emphasized the importance of looking ahead, knowing fans back in San Jose are expecting a Cup run. "It's our first step," he told CBC Television. "But that's all it is … now we move on."
Dan Boyle, who demonstrated the utmost in class and resilience after the fluky Game 3 own goal, said it best, rhetorically with part smirk, part don't-ever-mention-that-again, "Can we turn the page on game 3 now?"
Yes. Sure thing. There'll be a whole new book full of intriguing story lines ready to be written for round 2.
That's the beauty of the NHL playoffs.