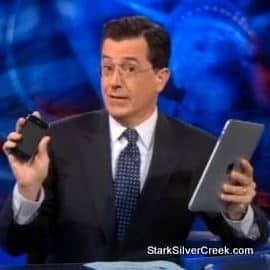 Everyone knows the Apple iPad will be any foodies best friend what with its large, crisp 10-inch display and ability to zip through all manner of recipes. But what you may not know is it's underreported feature for making salsa. Best of all the iPad doesn't need to be periodically sharpened. And it cleans easily with a single wipe of a towel. Smirk not included.
Steven Colbert, one of the seemingly never-ending parade of celebrities and newsies now getting into the gadget game, demonstrated his new iPad and the results are entertaining as well as educational.
Pay special attention to his Oprah-like audience appreciation stunt. He's so gracious.
Colbert says, "and just like the iPhone you can't make calls with it."
One day and counting. Are you tired yet of all iPad all the time across every single media outlet in the world?
Oh, and poor Amazon Kindle…