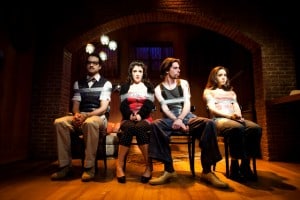 This weekend several shows open across Bay Area theaters including premieres at SF Playhouse, Dragon Productions and TheatreWorks. If you're really good at this sort of thing, try matching the sound bite to the theater house.
Boochie is an "ultra-fabulous" topless dancer trying to pull of the perfect crime.
Mexican restaurant owner Papa Candelario is just trying to keep his family together, his son sees visions of the Virgin and his granddaughter is dating a girlfriend.
And finally, after the death of a dancer, the lives of the people closest to him intersect in ways none of them expect.
Did you figure them all out, connect the dots? Or maybe the images helped you just a tad. Well, hey, this isn't Hardball with Chris Matthews.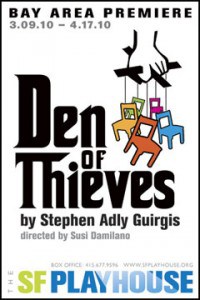 Get your calendars ready (or your iPhone, BlackBerry, Droid) and let the virtual circling begin.
On Friday, at Dragon Productions in Palo Alto, we are dealing with an emotional and powerful drama. In Burn This, Tony Award and Pulitzer Prize-winning author Lanford Wilson examines the distance between people who have denied themselves the true depth of their feelings. Reflecting on the power of the creative process and the redeeming nature of love, the play tells us to "make it personal, tell the truth, and then write 'burn this' on it."
At least two shows are opening this Saturday.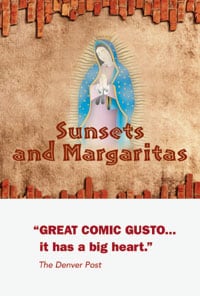 First up, SF Playhouse looks to continue their winning streak and to keep the laughs coming in Den of Thieves. But this is not exactly the savviest syndicate. it's all about unorganized crime: "Cracking a safe to steal $750,000 in drug money may not be the perfect road to recovery for kleptomaniacs Maggie and Paul. Watch them join forces with Puerto Rican wannabe Flaco and the ultra-fabulous topless dancer Boochie in order to pull off the perfect crime."
TheatreWorks is holding the West Coast premiere of Sunset and Margaritas. And the early world is expect the wild, and the crazy (but probably not Steve Martin). We hear there are all sorts of fun effects in this one. Can Papa Candelario keep his family together? And what about his Mexican restaurant?
So there you have it. Two comedies, and a drama. Make your picks. And see you out on the town.