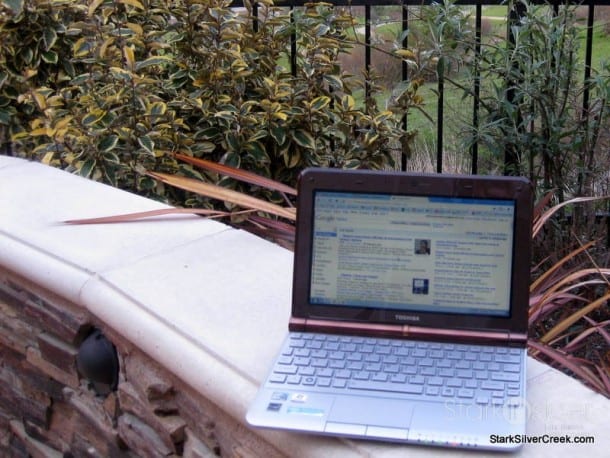 Once the reigning champion of laptops in the 1980s, it took Toshiba a while to get into the netbook game. But with the new NB305-N410 10.1″ model they've perfected the formula. Strong build quality, an excellent keyboard and long battery life (the Valhalla of portable computing) are just a few of the ingredients that make this netbook a winner.
The $399 price tag is a little higher than the competition (check Amazon for a $378 special on this model in classy Java Brown), but you get a solid, reliable performer that we highly recommend.
At 2.6 lbs, the NB305 is portable and ready-to-go, even weighing slightly less than other netbooks. You'd hardly notice it in a duffel bag, or carry-on.
Dimensions are: 10.47″ L x 1.43″ H x 7.57″ D. Intel's new Pine Trail processor (N450) provides the processing power. It's energy efficient, but only suitable for light weight office tasks or web browsing.
The 10.1″ display is LED backlit and runs at WSVGA, or 1024×600. While the screen is easy to read, you will need to scroll vertically to read most web pages.
The standard array of netbook ports are included: 3 USB ports (one is a sleep-and-charge), a 3-in-one memory card reader, ethernet (although I'd prefer manufacturers not include this), VGA, headphone/mic. It also came with 1GB Ram, 250GB hard drive, wireless 802.11b/g/n. Our unit did not have bluetooth, although it's available as an option.
The overall design is solid and aesthetically pleasing. The lid, for example, has a textured design (available in brown, blue, black) with the Toshiba logo centered. Popping it open reveals a spacious keyboard (by netbook standards), a large trackpad, and glossy 10.1″ screen. Oddly the bezel surrounding the screen looks far bigger than it needs to be, although I suspect this is to allow for the larger keyboard area.
If you're holding out for the iPad, you are probably not interested in a netbook.
However, if you need to type a lot—emails, documents—then a netbook such as this Toshiba should be far more practical with its almost full-sized keyboard. During tests I found it responsive and enjoyed the chiclet arrangement (definitely a trend in laptops in general) which spaces keys slightly using an island-style layout. It makes for less accidental keystrokes. The keyboard stretches from edge-to-edge maximizing the space available. I appreciate the dedicated page up/page down keys which makes scrolling web pages easier. The only compromise is a truncated right shift key. Often I'd reach for it, and end up hitting the question mark instead. After practice I did get better. Also, some might feel the keys are just a tad slippery. Still, this is an excellent keyboard.
The trackpad is another strong point. It's large with two easy to press left and right buttons. Multi-touch worked as advertised, and navigating was a pure joy, especially compared to other netbooks that have tiny trackpads, or utilize finishes with too much friction.
I was also impressed with the display. Colors really pop. Contrast is good. And the thing is bright! In most cases I needed to dial it down to about 60-70%. This should help outdoors, but still expect glare from the glossy finish.
Like most netbooks today with an Atom N450 processor, the NB305 ships with Windows 7 Starter. I didn't have any issues with performance, understanding that this is not a high performance machine. But surfing using Google Chrome was quick and easy. As was reading and typing emails.
Toshiba did a nice job keeping this netbook quiet. In fact, it's almost perfectly silent. You need to hold the fan to your ear to realize it's lightly whirring. During operation it never got hot and was comfortable to use for extended periods.
The included 6-cell battery has legs. I was able to routinely enjoy at least 7 hours, typically longer depending on activity. Streaming YouTube videos (which play fine in SD) is a battery killer. But just about anything else will give you lots of juice to make it through the work day, or easily last on a coast-to-coast flight. When it comes to battery life, the NB305 is one of the best.
Among today's class of netbooks, the Toshiba NB305 easily ranks near the top. It has everything you'd want in a travel companion: great keyboard, portable form factor, long battery life, and durable construction. My only caveat is the truncated right shift key which for some will be a problem. If not, then this is an easy recommendation.
Clint says:

I agree that this is the cream of the crop. At least for now. The market is changing rapidly and new models announced at CeBIT are likely to bring slimmer form factors, more power, longer battery life. Our favorite Moore's law applies.

For me, the truncated right shift key is a deal breaker. Many vendors follow the same design, to allow for the arrow keys, or, with the NB305, page up and page down keys. I prefer the new Lenovo S10-3 design which manages to include them, plus provide a full size shift key.

I'm still not sure I can live with a mail slot 1024×600 resolution for long periods. It feels claustrophobic.

On-the-go testing downtown San Jose proved that this thing is easy-to-use, and lasts a long time on a charge. A really nice job by Toshiba.
UPCOMING TESTS:

HP 5102 10.1″ netbook
Lenovo S10-3 10.1″ netbook
Plus a shoot-out comparison: Toshiba vs. HP vs. Lenovo for 10.1″ netbook bragging rights
TOSHIBA NB305-N410 10.1″ NETBOOK
4.5 out of 5 stars
$399 MSRP
Intel® ATOM Processor N450 (1.66GHz)
1GB DDR2 SDRAM
250GB Hard Drive (5400 RPM)
10.1″ Wide WSVGA 1024×600
LED Backlight
Intel Graphics Media Accelerator 3150
Wireless 802.11 b/g/n
10/100 Ethernet
Integrated Webcam and microphone
Integrated speaker
3-in-1 (SD,SDHC,MMC)
1x Headphone out
1x Mic in
2x USB 2.0
1x USB 2.0 Sleep and Charge
1x RJ-45 port (LAN)
1x RGB
Slot for security lock
Microsoft Windows 7 Starter (32-bit)
Battery: 6-cell Lithium-Ion battery (5800 mAh)
Battery Life: Up to 11 hours 5 minutes
Dimensions: 10.47″ L x 1.43″ H x 7.57″ D
Weight: Approximately 2.6 lbs.