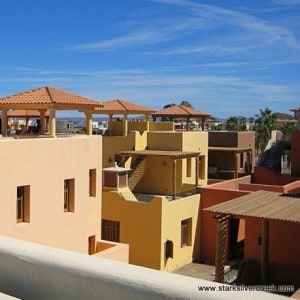 After almost 4 years, we finally inaugurated our Loreto Bay home. Nothing fancy as you'll see here, just a simple memento now hanging in the kitchen to mark the occasion, thanks to Conchita's downtown Loreto.
Note the echo in the video. That would be a casa sans furniture. There's always next steps, another list of things to do.
Conchita's is one of those stores that goes on-and-on, inviting you to explore little nooks and crannies, turn corners, and head up flights of stares to discover more. While they certainly have a touristy section at the front, there's a diverse selection of furniture, dishware and all sorts of home decorations. Though I'm not quite sure some one would do with a set of three large wood horses, or a hand painted giraffe. Then again, who am I to say, here we are purchasing a little metal blue lizard.
The homes in Loreto Bay, as most SSC readers will know that own one there, feature incredibly creative and unique floor plans. We particularly enjoy the indoor/outdoor feeling the homes have, thanks to courtyards, terraces and the viewing towers which afford expansive views of the Sea of Cortez and dramatic Sierra de la Giganta mountain range. Ooh, la, la. It does make you want to kick back with a margarita or two.
When you walk into our little casa, you might feel like you've just entered the L.A. Rams locker room circa 1978 what with all the blue and yellow.
I like that it's different—completely—than our San Jose home which is mostly earth tones like yellow, brown. So when we visit Loreto, we know we're not in Silicon Valley anymore. That's the idea!
This video marks the first time I believe we've ever used the words "cornucopia" and "serendipity." To capture them both in the same video, wow, now there's something for the ages.
The complete tour of our casa is available in an early SSC video: Video tour of our 'Nueva Chica' village home in the Loreto Bay resort: A dream 3+ years in the making.
If you want to read about our experience of getting a home built in the Baja, in painstaking, photo-rich detail, then head over to this page which summarizes all the posts from the past 4 years.
To learn more about Loreto, Baja Sur, a small fishing village five hours north of Cabo, click here to check out the Loreto Guide. Also, we've had many wonderful contributions to the Loreto blog sharing all sorts of wonderful stories and experiences: Loreto Live Blog. Plus don't forget to check out the Loreto Live TV episodes.