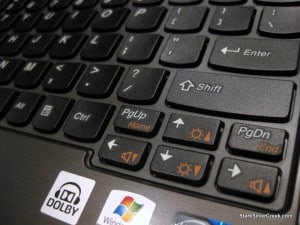 The Lenovo S10-3 is a third generation netbook featuring a 10.1″ screen. Built by one of the global leaders in laptops, you can expect trade mark quality and performance. We've been putting the new S10 through the paces, but since it just arrived I thought I'd share some first impressions. Also, Clint and I will be swapping units so we can get the gamut of testing and perspectives.
A shootout for 10″ Netbook bragging rights!
So far we have a Toshiba NB305-N410, a HP 5102, and, now the Lenovo S10-3 which arrived today.
The Lenovo immediately impresses with its svelte dimensions. Compared to the HP and Toshiba it's approximately 0.5″ less deep. Doesn't sound like a lot, but it makes a difference. Right away I knew the keyboard was a winner. It's fabulous and impressive considering the small body containing it.
The trackpad, not so much. The buttons are integrated which means the trackpad is just one square with no separate left and right buttons. To click you press down. It sounds fine in practice, but for whatever reason Lenovo made the buttons very stiff. It takes a good deal of pressure to register a click. The up-side: a great finger and thumb work-out.
A full review is coming soon. For now, here is the summary:
Best 10.1″ netbook keyboard I've ever used; dedicated page up/page down keys; spacious chiclet layout
Conversely the trackpad may be one of the worst; buttons are stiff; this will takes some getting used to
Boot-up time is decent; comparable to HP and Toshiba
Quiet ranking (most quiet to least): Toshiba, Lenovo, HP (fan runs continuously and is relatively loud)
Lenovo build is excellent, although there is no mistaking it's plastic, unlike the HP alloy build
The 10.1″ screen pops but there is glare depending on lighting; par for the course for glossy displays
Battery life: too early to tell; it ships with 6-cell battery that should get 7-8 hours
Lenovo QuickStart OS looks well done, but why bother? Why not just use the included Windows 7 and sleep mode when not in use (waking up is super fast)?
Ubuntu Netbook Remix (for those that love that sort of thing) runs very well; no install problems there
At $369 with 6-cell the S10-3 appears to be a bit of a bargain compared to the Toshiba NB305-N410 ($399 with 6-cell), and the HP 5102 ($399 with 3-cell)
Overall, very impressed except for the dreaded trackpad. I'm going to give it a chance though as everything else about it is tops. More to come folks, more to come.