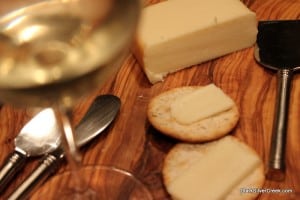 One of the many simple pleasures of life is pairing cheese with wine. There are all sorts of fancy combinations, and most are wonderful. Few things are better than enjoying this classic with family and friends, especially now that warmer weather has finally arrived. With Loni travelling it's near the top of my bachelor survival playbook. After a long day at the office, it's a rewarding treat.
Recently though I tried it with a basic Fontina cheese. Used primarily for melting, I actually found it just right on a cracker, especially the smoked variety I purchased (at Safeway no less; decent selection, along with ample wine section). This one was semi-firm, just creamy enough without cloying, like Peanut Butter for example. Being a pepper-spice kind of guy, I use pepper crackers from Trader Joe's.
So it's a bit of a one-two punch: the smokiness of the cheese with a little pepper bite for good measure. But that's all a set-up for the ultimate wine pairing.
Enter Napa Chardonnay. Chilled, maybe even a tad too much to give it some room to warm slightly without reaching room temperature. For me, it's imperative the wine be crisp as well. Pear, apples. That's all fine. But minimal oak. Instead, I go for Chards with mineral, acidity. Perfect!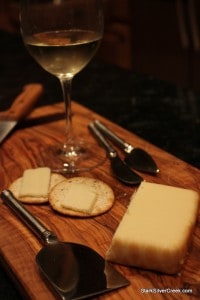 It's bliss. And maybe one more indication I think I'm a bachelor, but am actually mellowing with age. How could a hockey playing, gadget loving guy, write about cheese and wine. Well, all I can say is try it and tell me I'm wrong!
For Chardonnays, here's some of my favorites below. I like Carneros (great for Pinots too) in Napa, but there are so many strong Napa wines to try at all price points – and I've included Sonoma as well. And Washington State is producing some fine ones, along with Rieslings too, so you really can't go wrong.