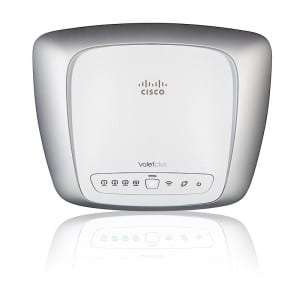 Can Cisco Systems (CSCO) make your home router easier to use? That's the idea behind today's introduction of the new Valet. Like the Flip brand, used successfully in the low-cost camcorder segment, Cisco is aiming to simplify the often challenging world of home networking.
Even the design and style of some of the new Valet branded products look more approachable: white casings, clutter-free exteriors, and rounded corners.
"Just like with camcorders, this is a category that has always been very technology driven, so we've listened to the things that have driven people crazy with wireless networks and we've designed a category for consumers instead of making technology for technology's sake," said Scott Kabat, Cisco's Valet marketing director.
It's quite a departure from the Linksys look, a consumer brand Cisco acquired in 2003 for $500 million.
With the $99 Valet (also available in Plus version for $149), users can get up and running using a USB stick which simplifies the installation process.
Plug and play? Well, maybe. Some early reviews suggest that grandma won't quite be able to pull it off yet without a phone call or two for help. Although that's perhaps a good way to get in more family time.