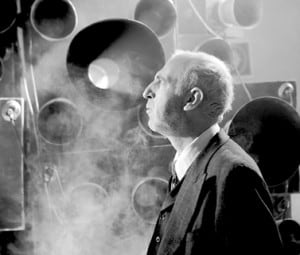 With all of the high quality independent feature films now playing at Cinequest, it's easy to overlook the shorts. These guys try twice as hard to earn your respect. And last night at Camera 3 downtown San Jose it showed. To my eyes there wasn't a dud in the batch. Billed as "Dark, Deep and Dangerous," the 8 shorts treated the enthusiastic audience to a bizarre, mind twisting, and yes, even dark, evening of film.
Clocking in at typically 10-15 minutes, with the longest at just 30 minutes, the shorts are a convenient way to traverse many filmmaking styles, cultures, and perspectives all in one sitting. Don't like what you're seeing? No worries, momentarily the next film in queue is at the ready.
A few of these equaled or surpassed the caliber of some of the CQ features.
When you apply all your energy and resources into something that's only, say, 15% the length of the feature there's far less chance of dilution, both in on-screen quality (mostly evident from solid post-production work) and in story. Several much-hyped features at Cinequest tested the patience, rambled and/or came across as unfinished film school pieces. Such is the world of indie film sometimes.
Here's my take on the "great 8" from Shorts 2:
Adelaide (US)
Pain is so close to pleasure—it's also a catchy song by Queen. Meds and 911 calls bond two lovers with most dates ending up in the ER. Decently made, and entertaining enough. Acting not quite at same level as some others. Enjoyed it. 3 out of 5.
Diplomacy (US)
Here's an interesting question: what if interpreters conspired in the highstakes arena of nuclear and arms negotiations? This is exactly what we see here in this clever short that lets us eavesdrop on an intense negotiation between the US (played by a very Laura Bush looking actress) and Iran. Confusion ensues. Or is it agreement? 4 out of 5.
Irreparable (UK)
This one started off strong, ended weak. It showed promise when a couple come home to their apartment which had apparently just been robbed. Some sort of secret or cherished files on a stolen laptop cause much angst. Overtones of a play we recently saw in Palo Alto called Rabbit Hole (soon to be a motion picture later this year starring Nicole Kidman), it never quite completes the thought, or gives us enough reason to care. 2 out of 5.
Morning Echo (UK)
A boy is a dog. A girl look for her lost cat that is not really lost. Christmas comes twice a year. Valentine's Day can happen at any moment. A world is turned upside down when a family must look after their very sick daughter. But to what extent will everyone go to appease her living wishes. And, in the end, who is really sick? 3 out of 5.
Night Mayor (Canada)
Mad scientist gone wild! I love this one, although I can see a lot of people being turned off by the rapid-fire cuts, repetitive narration and bleak tonality of the message. For Canadian immigrant Nihad Ademi, the Aurora Borealis are an incredible art form that must be shared across Canada from coast-to-coast. He invents a machine to send the images, music. But is shut down by the Government. Shades of The Creature, and 1950's sci-fi movies, it's terrifically bizarre. 4.5 out of 5.
Out of the Blue (Ireland)
A mermaid in a stray television found on the beach causes a lonely local to fall in love. But the water is running out. Will the mermaid survive, and, more importantly can a relationship like this work? Charming story. This one might even fit better in comedy shorts. I prefer my dark, more dark. More dangerous. Then again, maybe this one was a welcome reprieve from the others. 3.5 out of 5.
The Proposal (US)
Sado masochism holds a role-playing couple together. See, didn't I already say: pain is so close to pleasure? Like two fighting Siamese fish, they must never share the same bowl, or they will fight each other to the death. Good looking film. 3.5 out of 5.
The Whirling Dirvish (US)
One of my favorites of the evening. Filmmaker Rory Bain demonstrates that just because a film is short, doesn't mean you can't patiently let a story unfold, with character development. The story of a Muslim boy who fights temptation when he discovers a beautiful, yoga-loving blonde next door. I told Rory that I enjoyed the very American blonde combined with the intensity of the Muslim faith. He replied: everyone likes the blonde. 4.5 out of 5.