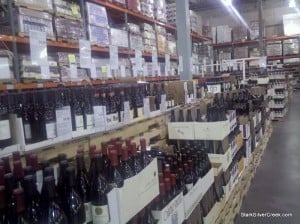 Something looked different at Costco during my last visit. Look closely at these photos. Notice anything? Aside from the fact that these are less than ideal photos taken from trusty Droid, you might notice the wine section at your local Costco is sporting a new, torn jeans and t-shirt look across the wine section.
It says "less upscale, more approachable."
Although the wines haven't changed, and neither have some of the prices which can easily exceed $100 at the upper end, the way they are displayed has.
Note that this is based on empirical evidence based on one single store in San Jose. This does not make for a national trend. It could be temporary. Perhaps so they can wheel in giant 8 foot Easter bunnies (with LED eyes, and wings). Or schlep in another two tonnes of carrots. Hard to say.
But I will bet pesos-to-dollars there is a very practical, register-impacting rational behind this decidedly mainstream makeover: shoppers are more likely to buy wine when it looks less expensive, more approachable.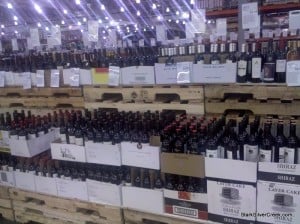 The previous wine display, at least at this Almaden Valley location, used wooden boxes, on angle, artfully displayed. The appearance was certainly more boutique, less big box retailer. I'm guessing that was the idea; for wine, they must have thought, we need to look upscale. Bring in wooden crates!
However, that was then. Now the economy hurts like stink, and wines in tuxedos don't look so approachable to mainstream America. Put those same wines though in basic boxes, et voila, increased sales. Or so goes my theory. And I most definitely could be wrong on several accounts.
Parting shot: Wine Spectator and Wine Enthusiast scores continue to rule the roost. Will a day every come when someone else's voice sways consumer buying decisions?