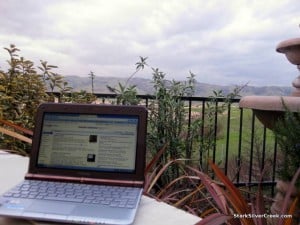 The NB305 is an updated version of Toshiba's popular 10.1-inch netbook series. It just arrived in our "labs" for testing as you can see in this photo. With my schedule constantly on the go (and I'm sure you know the drill too), especially as we dart up and down 101 or 880 to hit Bay Area events, theater, and shows, I finally realized that it was time to have a netbook in tow. Trusty Droid is great, but I won't be hammering out emails, reviewing documents for any great length of time. When I find myself on the road, I need access to our business, el pronto. Hey, Web 2.0!
So the Toshiba is the first of several units I'll be putting through the paces. I'll write-up my findings and see if this little guy is indeed a friend or foe.
Cinequest next week will be a good test. We have a HP 5102 netbook on the way as well, so there should be some good comparisons coming up. Either way for about $400-500 it amazing what you can buy these days.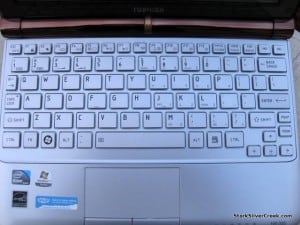 First impressions on the NB305: like the understated brown lid (also available blue or black). Keyboard not wowing me, but I think I need to adjust expectations from the superb ThinkPad I normally use.
Battery life is apparently mondo; Windows shows 8 hours to go, and I haven't even fully charged the thing.
Oh, that display. Like looking through a mail slot. Scrolling is the name of the game. This might be my biggest beef in the first hour. So picky I know. Stay tuned.